And so, Toy Story Playland really is coming.
Groundworks, foundations and queue buildings have been worked on for months already, but this is our first real look at the "look" of this new mini-land. And a first look for any Hong Kong fans, too.
These pictures from yesterday caught Toy Soldiers Parachute Drop just as it was topping out, being pieced together from large, tubular sections just like a toy set.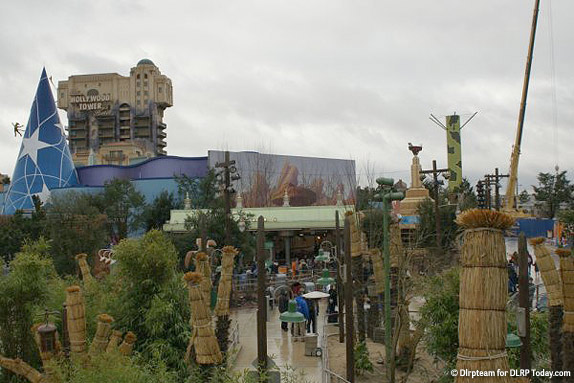 From this angle next to Cars Quatre Roues Rallye, it fits in quite well, doesn't it? No? OK…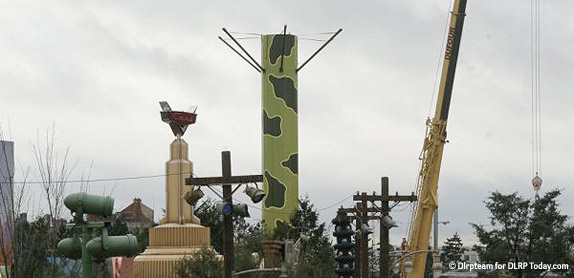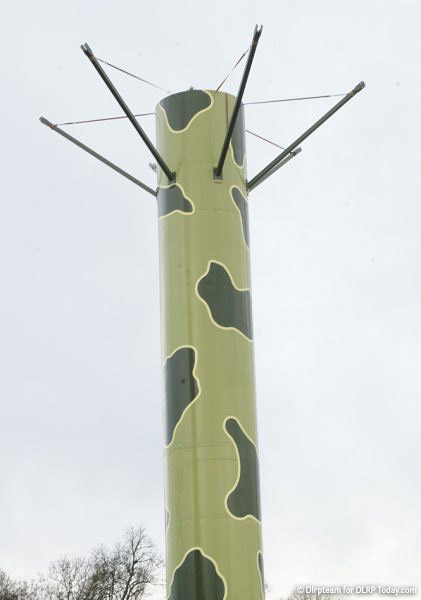 Our photo reporter Dlrpteam even caught the moment the construction crews, after about two hours of confusion and checking under all their tables and chairs twice over ("Well it must be here somewhere!"), found that last important piece — at the bottom of the box all along…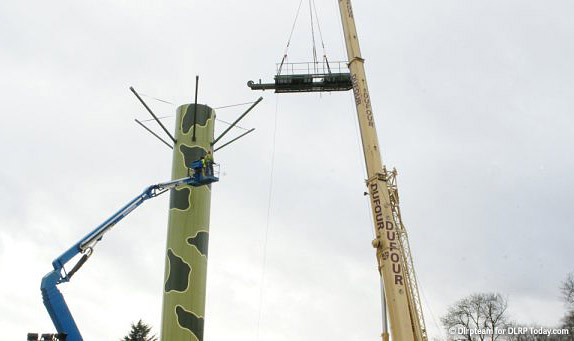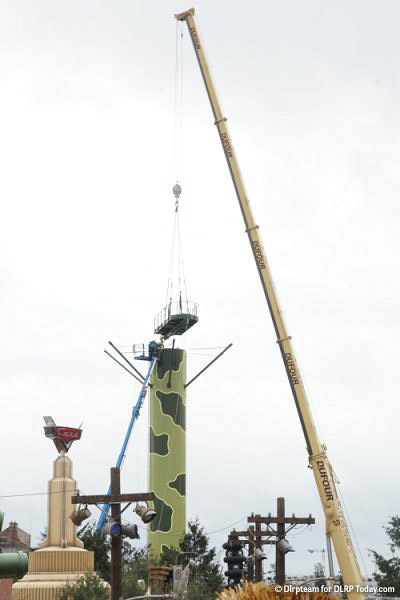 In fact, this is just one of several pieces which will hold the all-important rope/wire of our parachutes — note the wheel at the back, for feeding it down the tube into the ride mechanism.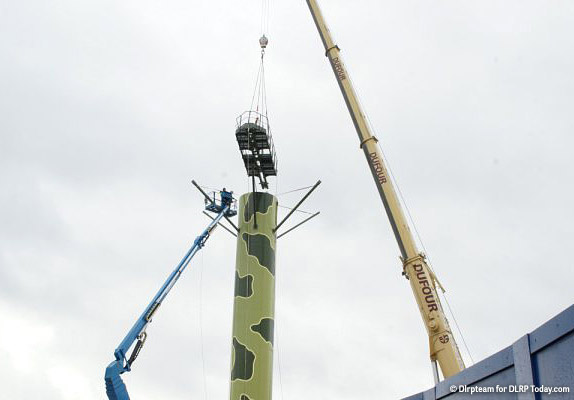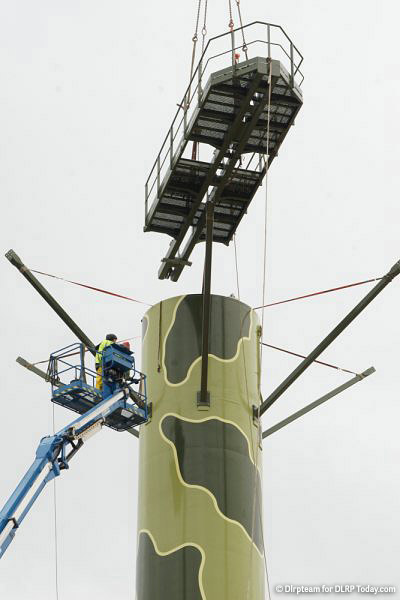 The Parachute Drop tower is a considerable height, touching 25-30 metres, roughly as high as the front body of Tower of Terror. Now just about up to its full height, it can be seen between Studios 1 and 2 as you enter the park — and from the end of Hollywood Boulevard.
But it's not the first piece of the Toy Story Playland playset to make an impact on the park. Even before the Parachute Drop tower, the queue buildings for Slinky Dog Zigzag Spin, RC Racer and Toy Soldiers Parachute Drop itself have grown as concrete and steel shells, becoming hard to ignore in the still rather plain landscape of the Studios…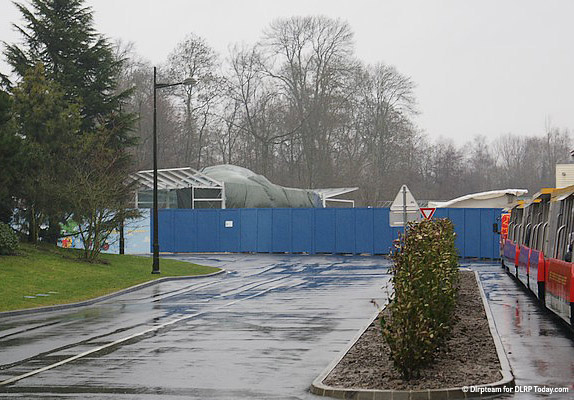 Above, the box of Slinky Dog has its ends ripped open, whilst below, RC Racer is due to be accompanied by a collection of Hot Wheels-style garages and playset buildings.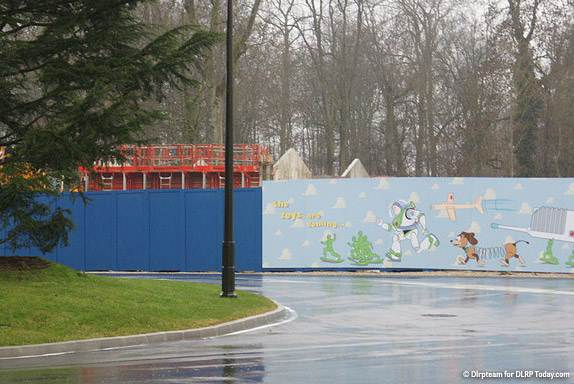 Whatever you call this Imagineering creation — Toy Story Playland or plain Toy Story Land of Hong Kong — both names have unfortunately become poison in the Disney fan world. When the concepts were shown at the D23 Expo last year, they even apparently drew audible boos and unhappiness. Blog upon blog and countless forum comments have trashed the development at every turn.
It's lacking in imagination, it's cheap, it's ugly, it's just for kids… they say. And that's before you even get into the lack of a restaurant, toilets or a shop (in the Paris version, at least). Or the minuscule capacity of sure-fire hit RC Racer.
Being the first piece that all Disney fans in the world will see of this development, the Parachute Drop tower is unlikely to win over anyone just yet. It's unashamedly in-your-face — its plastic, simplistic pattern clashing completely with the course the park appeared to be heading with when it opened Hollywood Boulevard.
But — perhaps ignoring the bright orange Hot Wheels track of RC Racer — that's the "worst" over with. From here, the land will be filled with a huge variety of props, details and in-jokes from the Toy Story films, all surrounded by 5 metre tall bamboo plants, like you see in Adventureland, to double up as tall grass. Should we be worried, or should we even be excited?
Since this project got going while DLRP Today was offline last year, it's snowballed. From the original rumours to the Hong Kong clone, there's a lot to catch up on now. And with the Parachute Drop now standing alongside Tower of Terror and the Sorcerer's Hat, there's no chance of leaving it on the "To Do" list any longer.
To be continued…
Photos by Dlrpteam for DLRP Today (1-7: 3rd Feb; 8-9: 16th Jan)