Back in December 2009 there were reports that guests were being surveyed in Videopolis / Hyperion Café about changes to the offering over at Buzz Lightyear's Pizza Planet, the popular land's only other restaurant. Currently a counter service location serving pizzas and other American fast food, the questions apparently only suggested an "all you can drink" option for meals costing €15.
Now, sources are stating that the restaurant will become a full "all you can eat" restaurant from July this year. Our friends at Photos Magiques posted the information via Twitter.
To accommodate the changeover, the restaurant will close from 1st April to 30th June 2010, though no further information about the exact changes due to be made is available yet.
Those changes are important to know, because otherwise we're left wondering…
An all-you-can-eat restaurant, here… ?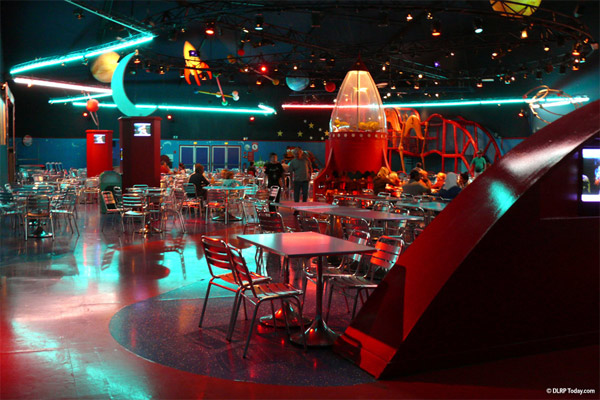 There were suggestions with the original rumours that the décor could also be changed or updated in the process, and you've got to hope that's the case. Disneyland Paris gets a bad enough reputation for its high food prices and low quality counter service without suddenly charging a top-up to eat in this tired space.
Whilst the Pizza Planet in the original film is a wondrous, technological space filled with features like those giant drink dispensers and automated pizza-based announcements (yes, they're a thing…), the Discoveryland equivalent is a black tent with fluorescent strip lights. We attempted to explain why the restaurant is located in a tent out the back of Discoveryland in our earlier article. It was used for a 'Space Festival' exhibition during the opening year of Space Mountain and then seized upon for a quick tie-in to the Toy Story films …and here we are more than a decade later.
The date this new format is set to be introduced will of course come as a huge coincidence what with the opening of Toy Story Playland (sometime in "Summer", still no date) and the première of Toy Story 3, the long-awaited new addition to the series.
Though Toy Story 3 will be big news all over, Toy Story Playland will surely become the real "centre" of all things Woody and Buzz at Disneyland Paris when it opens. Keeping a lacklustre restaurant dedicated to the film hidden away over here in a whole different park, especially when Walt Disney Studios Park will be so lacking dining on its Toon Studio side, is a silly situation for the resort to find itself in.
Toy Story Playland won't have a single dining location, leaving Toon Studio's grand total at zero.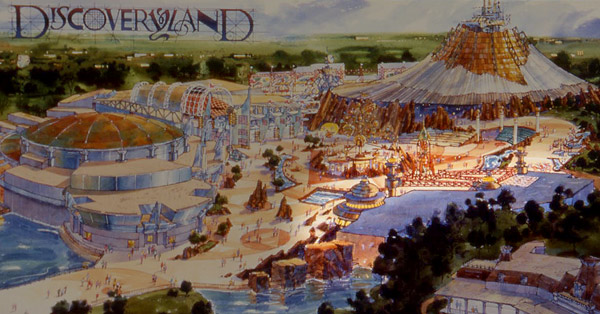 Discoveryland restaurant that never was, or has yet to be?
And, though Discoveryland still needs more dining capacity to take the strain off Hyperion Café, is this place hidden away behind the forgotten Honey, I Shrunk the Audience the best place to achieve that? Will we really never see that planned restaurant right at the entrance to the land, opposite Constellations boutique? Surely a much more tempting prospect.
Perhaps Tour Guide Barbie will drive by and explain the short-sightedness involved on both sides.
Picture by DLRP Today; Concept © Disney.