Here are the very first photos of the show we originally reported in August, showing the modestly-decorated stage populated by stage characters for the first time in, oooh, five years? It's great to have it back…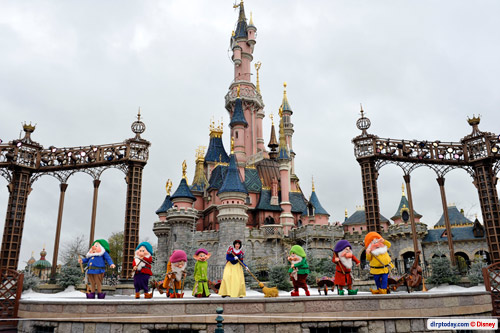 It's also rare to see all seven dwarfs together in Paris, and they've been given wheelbarrows filled with colourful diamonds for the musical numbers on Le Théâtre du Château.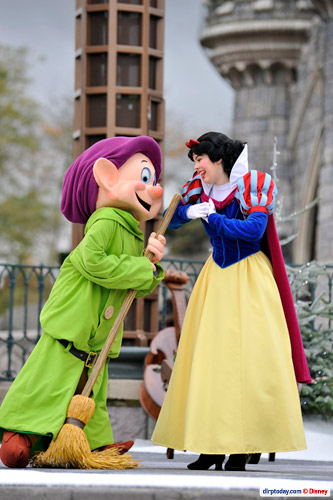 Eventually, Snow White's prince appears to complete the scene of "romance éternelle".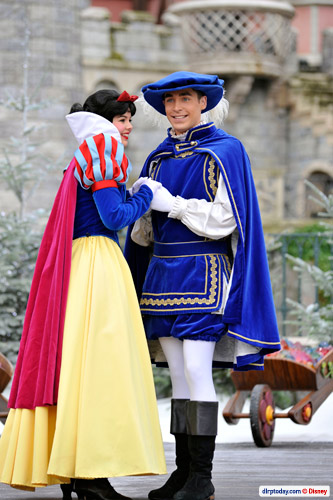 Lasting around 8 minutes with about 15 minutes of meet 'n' greet time afterwards, in an identical mould to the Mary Poppins: Step in Time and Sleeping Beauty: Once Upon a Time events, the show has a soundtrack of mostly recycled musical numbers, which member EVE on Disney Central Plaza forum has done a good job of recounting already.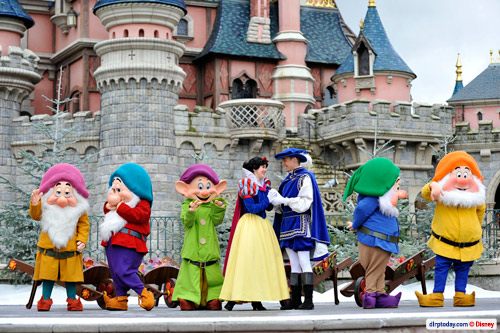 Spanning several languages, they include "Heigh Ho" in English, from the stage's original Le Livre Magique de Mickey show, "Whistle While You Work" in French, "The Silly Song" in German (yes, German, apparently!) and an old recording of "Someday My Prince will Come", which has already been recycled this year for Disney's Stars 'n' Cars. Also apparently included is some of the music from the Snow White float of Fantillusion's Happy Ending…
The show has been directed by Katy Harris, who will be the second in our special series of Christmas interviews, revealing more about the show later this week.
UPDATE 10/11/2009 — The latest park Programme confirms the show's official English title is Snow White: Happily Ever After, with performances three times daily at 11:45, 12:45 and 13:45.
Pictures © Disney.