Announced as part of the Disney's Fairytale Christmas press release, the Tree Lighting Ceremony will not only move back to Town Square but become an event in its own right once again, after several years spent as merely a background to the Castle's illumination at Central Plaza.
It looks like we're not the only ones eagerly anticipating the return either, as the resort's publicity department have just released this rather lovely new image to advertise the "new" event: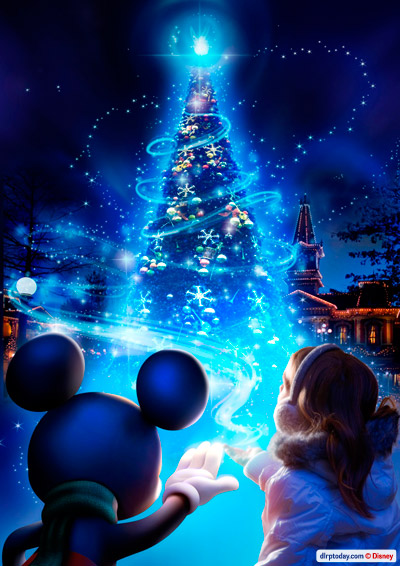 Featuring a young girl with Mickey Mouse, the tree itself is shown glowing in blue as trails of pixie dust surround it, the buildings of Main Street enclosing the cosy scene.
The use of blue might be interesting, since the old tree — which has been spotted backstage and is assumed to be returning — has no lights of the sort. So could the old tree be given a new lighting overlay? After all, with the event now based solely around it, it has to compete with the extravagance of the several hundred-thousand lights over on Sleeping Beauty Castle, which will still be illuminated — separately — as part of the final "Party Time" show of the day.
This slightly too modern, slightly cold blue LED-type display is already used for the 2005 Princess Chandeliers which line Main Street during the season. It would be a shame to see the warm and colourful old tree fall to this apparently fashionable colour for Christmas lights, even if it does need to be given a more impressive light-up programme.
Gushing with confidence, the press release states: "Every evening, guests are invited to a stunning brand-new show around the majestic Christmas Tree in Town Square. Enchanted illumination orchestrated by Mickey and Minnie Mouse in person promises to dazzle young and old alike with loads of magical Christmas surprises."
Like any wonderfully clichéd Christmas movie, we'll just have to wait for those days to fall from the calendar…
Image © Disney.