We can all admit that Disneyland, whilst responsible, is by its nature hardly the "Greenest Place on Earth". Between the energy-guzzling attractions, seas of merchandise and fast food disposables, it's hard to feel very eco-friendly as you enjoy the parks.
Surprisingly, the other international parks are already well-ahead on this one. Despite Europe — and especially the countries which feed into Disneyland Paris — probably being rather more keen on recycling, it's the parks in California and Hong Kong which have double bins in most locations, with clever themed designs indicating the bin for recycling bottles and cans.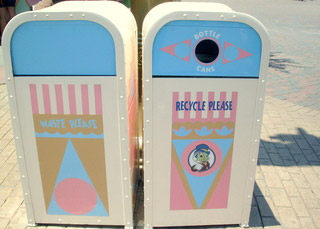 Photo source.
Take a look at a few nice examples here, here, here and here.
And now, they've finally arrived in Paris: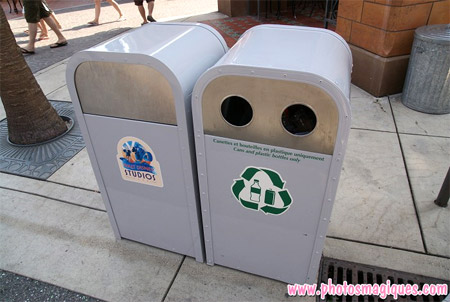 The new bins to have arrived in Walt Disney Studios Park for this test aren't quite so special, but they're certainly a positive step forward. Even if Euro Disney S.C.A. already claims to recycle 39% of its total waste, these make it clear to guests that the parks are taking responsibility for their waste, as well as allowing bottles and cans to be separated from the start.
With only Disney Studio 1 and Toon Studio having slightly different designs for their bins, the Studios would never be the first to lead with a clever themed design, but if the "test" is successful enough for these bins to show up everywhere (and why wouldn't it be?), hopefully our new green conscience can come with a little more Disney magic, like above.
Picture (Paris): Photos Magiques.