It's Poppy the Monkey who shares this snippet of new information on magicforum, posting the following:
"After the success of the Mary Poppins and Sleeping Beauty happening – plans are underway for a new happening to launch in November this year.

The Snow White happening, temporarily called "Snow White – I'm wishing" will feature Snow White, her prince, the 7 dwarfs and possible the Evil Queen….

Plans are being made to have this show play on the old castle stage, unused for shows since Winnie the Pooh departed a few years ago."
Sounds great so far, don't you think? More streetmosphere, the Castle Stage (Le Théâtre du Château) finally back in use and all seven dwarfs together at once — a very rare sight in Paris.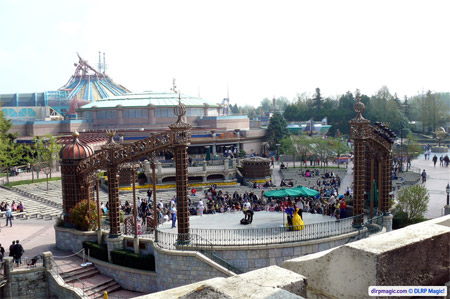 Whilst 'Step in Time Mary Poppins' is a real joy and continues to be hugely popular, the 'Once Upon a Dream Sleeping Beauty' event, with no real storyline and quite patchy recycled music, was less so. It's possibly worth noting Snow White already appears to a slightly shrill old "I'm Wishing" track in the Disney's Stars 'n' Cars stage number.
With each new streetmosphere event — including the return of Good Morning Main Street U.S.A. last month — it's hard not to think of the ones which are becoming long-forgotten. The Main Street Quartet, Casey's Ragtime Piano, The Gunfighters Stunt Show over the roofs of Frontierland and the Jesters and lute-playing Troubadour of Fantasyland — not to mention all the acts (including CinéFolies) in the now criminally streetmosphere-free Walt Disney Studios Park.
Still, one step at a time. The shocking discovery that the Castle Stage is actually… a stage …is a big moment, after all these years of building unpopular new ones over Central Plaza.
We're wishing for November already…