Halloween? Must be August! The regular location of the season's flash mini-site — www.magichalloween.com — has been updated for the upcoming 2009 season beginning this October 3rd. Generally, the look is the same — save for one noticeable new ingredient: balloons, of course — orange ones!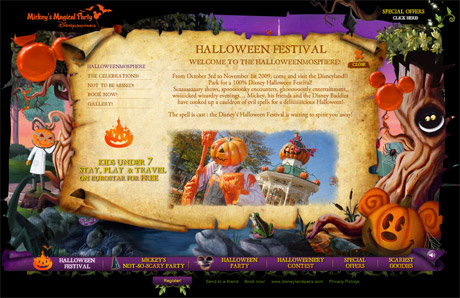 New official website
And so, this annual season, which has been meandering between different themes for several years since the arrival of the Pumpkin Men in 2003 and the thankfully short-lived focus on Stitch later, finally appears to have been set on a steady course.
Things are much more family-friendly than the early years of the festival, whilst much more "Disney" than the first seasons featuring the Pumpkin Men. Overall, the events are moving closer in style to their praised Tokyo and Hong Kong cousins. Mickey and Minnie will return in their perfect purple, orange and green costumes, whilst Jack Skellington and Sally return with greater prominence since their hugely successful 2008 debut.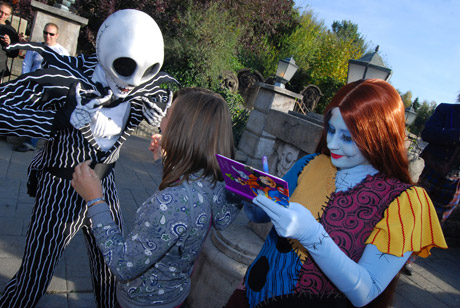 Jack & Sally joined the Paris season in 2008
Orange paint still features, however. Whilst this year the orange Main Street is explicitly mentioned in the press release, for the two previous years the decorations have actually been cancelled — only to return to the street at the last minute. It seems Entertainment simply didn't have the money for a replacement.
Interesting to note, for example, that the "Mickey's Magical Party Time!" theme song began life as a new Halloween theme song, but Entertainment — to quote composer Scott Erickson in our interview — "didn't have the budget last year to update the parade and change the Halloween song". What with the new characters, costumes and major new nighttime hard ticket event in Mickey's Not-So-Scary Halloween Party introduced last year, it's easy to understand why.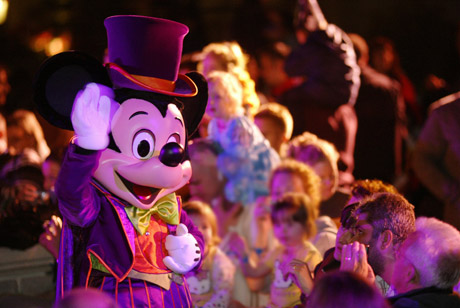 Mickey's new 2008 costume set the festival on the right track
So, we come to 2009. And, with the events of Mickey's Magical Party continuing through the Halloween Festival, it'll be looking slightly different again from its previous 15th Anniversary-tinted years…
Disney's Halloween Festival… something BIG is brewing in October!

– From 3 October to 1 November 2009 –

Marne-la-Vallée, France, July 2009 – From 3 October 2009 through to 1 November 2009, Mickey's Magical Party adds even more fun to a marvelous month of mischief and mayhem. It's the perfect month to make family and friends scream with delight. Join Mickey as he welcomes the Disney Villains, Pumpkin Men and Pumpkin Ladies and the star of the season, Jack Skellington from Tim Burton's Nightmare Before Christmas to celebrate Mickey's Magical Party for a frighteningly fun Halloween surprises!

Welcome to the Disney Halloweenmosphere

A full month of thrills, spills and chills galore at Disneyland Park, as Halloween invades Frontierland and Main Street, U.S.A.® with decorations, eerie events and hair-raising shows, face painting and oodles of tricks and treats. Family and friends, young and old, everyone is sure to have a ghostly good time with…

… the stars of Nightmare Before Christmas

Jack Skellington and his friend Sally, the stars of Tim Burton's Nightmare Before Christmas, are back to captivate Disney's Halloween Festival with their bewitching world.

… mischievous Pumpkin tricksters

When Disneyland Paris goes orange, you know the Pumpkin Men and Pumpkin Ladies can't be far away. They are just itching to splash the road and shop fronts of Main Street, U.S.A. with their bright orange paint. Masters of the most devious decoration, mischievous jokes and pranks, Pumpkin Citizens take Frontierland by storm as they transform it into Halloweenland for a howling good time! No one can escape the antics of those uncontrollable Pumpkins we just can't help but love!

… Disney Villains and Characters

Children of all ages are going to love staring down the infamous Disney Villains and becoming accomplices to their demonic deeds. Cruella De Vil, Captain Hook, Jafar and the wicked witch from Snow White take vile pleasure in posing with young guests and giving them a wonderful souvenir of the year's biggest monster mash. Mickey and Friends have also spread the word to give guests a memorable welcome decked out in their finest Halloween costumes.

… Mickey's Magical Party takes on the colors of Halloween

More enchanting than ever in her delightful witch costume, Minnie leads the dance in Town Square. Disney Characters take advantage of this scare-a-licious month to don their mischievous pumpkin masks as they ride Minnie's Party Train in all its Halloween splendor.

Meanwhile, the Disney Villains have spent all day preparing to invade the stage during the final show It's Party Time… with Mickey & Friends. Captain Hook, Gaston, Jafar, Frollo, Cruella De Vil, Maleficent the witch from Sleeping Beauty and other fiendish folk are going to perform a devilish rendition of the "Mickey Dance" on the new Central Plaza Stage. It feels so good to be bad, and they'll do whatever it takes to ensure we never forget!

… Disney Once Upon a Dream Parade to a Halloween tune

The Disney Once Upon a Dream Parade will kick-off with a special Halloween theme, as the Pumpkin Men and Ladies join in the abominably bewitching parade, along with Jack and Sally from Tim Burton's Nightmare Before Christmas and the Disney Villains, of course!

The spectrrrrraaaaaaaacular month of Halloween is also your last chance to get down to an intergalactic beat with DJ Stitch and the "It's Dance Time… in Discoveryland" show. Hurry, his space mission ends on 8 November 2009.

And for that fiendish final touch, Disney's Halloween Festival continues with parties you won't want to miss to enjoy Halloween to the max!

Disney's Halloween Party: 31 October is Ghoul's Night Out!

Guaranteed to be a scream! Get ready for the most magical night of the year at Disneyland Paris! The now-famous Disney's Halloween Party* will take place on 31 October 2009 in Disneyland Park. A one-of-a-kind experience to enjoy with family and friends from 8:30 p.m. to 1 a.m.

By the light of the moon, Disneyland Park will reopen its doors to a most terrifying atmosphere featuring a wide variety of events, surprises and boo-groovy music until the late-night hours:

Spooktacular street entertainment and stage shows throughout the evening
The Disney's Fantillusion Parade led by the vicious Disney Villains, where the world of darkness meets the enchanted world in a fantastic twilight spectacular.
A special Halloween Sound and Light show with the fangtangulous backdrop of Sleeping Beauty Castle.

And oodles of other dreadfully delectable surprises!

*Paid event: €32 for adults and children, free for children under 3.

Mickey's Not-So-Scary Halloween Party

Want to celebrate Halloween in pure Disney style that's fun without being scary? Then Mickey's Not-So-Scary Party is the place to be!** Four dream opportunities for family fun with Mickey and Friends in their most boo-tiful Halloween costumes on 9, 16, 23 and 27 October 2009 from 8 to 11 p.m. with tricks and treats galore! Places are limited to this one-of-a-kind event for children of all ages who just can't wait to get dressed up. Disney Characters and Villains will be there to create an exclusive and interactive experience of exciting and truly unforgettable moments.

In addition to exclusive events and shows, guests will enjoy access to a number of attractions in Disneyland Park open especially for the grand occasion: Snow White and the Seven Dwarfs, Pinocchio's Fantastic Journey, Lancelot's Carousel, Peter Pan's Flight, Dumbo the Flying Elephant, Mad Hatter's Tea Cups, "It's a small world", Sleeping Beauty Castle in Fantasyland and Pirates of the Caribbean in Adventureland. And the fearsome Phantom Manor and the legendary Big Thunder Mountain in Frontierland.

**Paid event: €25 for adults and children, free for children under 3.

All the fun and fantastical ingredients are there to make Disney's Halloween Festival the most monstrously magical month of the year at Disneyland Paris, from 3 October to 1 November 2009.

— — —
Did you get all that? Let's have a quick recap of what's new…
Disney Villains invade It's Party Time with Mickey and Friends — this is instead of the standalone Disney Villains' Halloween Showtime which used the previous stage during daytimes in 2007 and 2008.
Minnie's Party Train also takes on a Halloween theme with decorations — no wonder poor old Casey Jr. huffs and puffs with all the extra layers on top of him these days.
Disney's Once Upon a Dream Parade slated to "kick off" with a Halloween theme — suggesting it'll be similar to last year's pre-parade, a few special floats running separately to the main parade, rather than a full overlay — which had actually been rumoured to happen for Christmas and/or Halloween this year.
Mickey's Not-So-Scary Halloween Parties return for a second year on 9th, 16th, 23rd and 27th October, with the big plus being that the event has broken out of its Fantasyland-only confines of the first year and now allows access to Adventureland and Frontierland. It will be interesting to see, now, how they go about properly differentiating it from the 31st October Disney's Halloween Party, other than just being a cut-down version…
And as for the Halloween Soirée itself, this press release lists only a "light and sound show" — rather than the usual fireworks. We'll have to wait and see…
Of course, Halloween often has other events beyond these widely-communicated ones above. There's the temporary Trick or Treat Stage in Frontierland, for example, usually home to small shows like Goofy and the Magic Cauldron.
Good news here — we've heard that plans have been moving ahead for Jack Skellington and Sally to take on stronger roles than just meet 'n' greet characters, by taking part in their own show on this special Halloween stage next to Cowboy Cookout Barbeque.
As with all creations starring these characters, the event has even been approved by Tim Burton himself. However, with the official website listing only a "brand new, devilish show to the sound of your favourite Disney hits" starring "the witches", has another new Halloween plan already been scuppered?
Pictures © Disney.