Advertisements for Mickey's Magical Party are generating a lot of interest in the resort right now, no doubt helped along by that 40% discount offer.
Just a few seconds ago, for example, an email dropped into the inbox of thousands of Disneyland Resort Paris fans and visitors in the UK: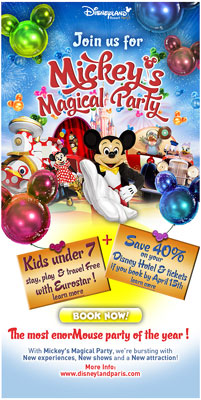 The email shouts "With Mickey's Magical Party, we're bursting with New experiences, New shows and a New attraction!", linking across to the official celebration website — which itself was updated just a few days ago to include some extra videos and photos.
But what about their paid-for advertising campaign? The UK office have sent us a little update on what to expect: "Throughout February and March, we'll not only be on key TV channels but also in popular magazines, posters in your local supermarkets and online."
So, open up a popular magazine this month and you might just be treated to be a double-page advertisement for the celebration and the resort, using a shiny new visual of colourful balloons floating through the sky.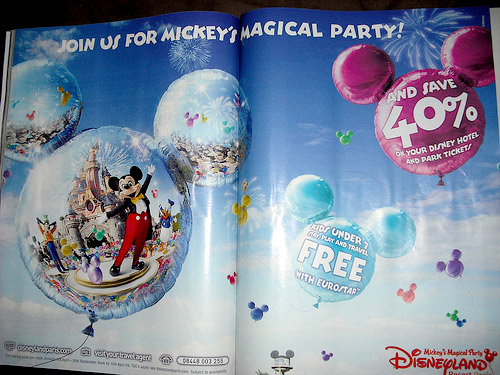 Photo: Kris, magicforum.
This new print ad doesn't specifically mention any of the new events, choosing to lead just with the bright new key visual. The biggest balloon in which cleverly reflects a depiction of the main It's Party Time… with Mickey and Friends show on Central Plaza, with Timon, Baloo and Aladdin in the background and crowds of eager guests reflected in its ears.
Here's the full image exclusively on DLRP Today, without the print campaign text:
Notice that the stage appears closer to its final design than the earlier marketing images, yet Sleeping Beauty Castle is shown very prominently — without its confirmed decorations.
You'll probably agree the general colours and style of this beautiful new key visual are also far subtler and nearer to the classic "Disneyland Paris" image we remember — those bright and colourful balloons are still present, but don't overpower the image.
Images © Disney.