Usually it's the press, shareholders or Cast Members who get first-look at the latest new events and attractions at Disneyland Resort Paris. Earlier tonight, just as daylight was fading over Marne-la-Vallée, that tradition was delightfully broken and normal, regular guests were the first to see a complete presentation of Disney's Stars 'n' Cars.
As reported several times previously, you might recognise most of the vehicles — but this certainly isn't the linear parade you'll remember from Disney-MGM Studios in Florida. The event now combines a cavalcade, a surprisingly lengthy dance medley on Place des Stars Stage and a meet 'n' greet with guests all in one.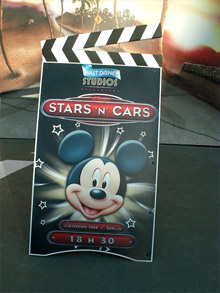 Showtime sign on Place des Stars Stage
Different also is the showtime of this new event — not 1pm as with the old Disney Cinema Parade, nor earlier in the day like Good Morning Walt Disney Studios. Instead, it'll be happening half an hour before park closing each day, as a grand finale of the stars arriving for their "premiere" after "wrapping production" on the film shoots of the day.
So, for the parade doors in Toon Studio to open and reveal the first of the Stars 'n' Cars driving out onto the parade route earlier tonight, fans had to wait right until 6.30pm. We've collected some of the best of the first photos, taken by Grégory Grienche, Aléxandre Rosa and Clément Poizot. See the links at the bottom of this article for more of these lucky fans' first photos…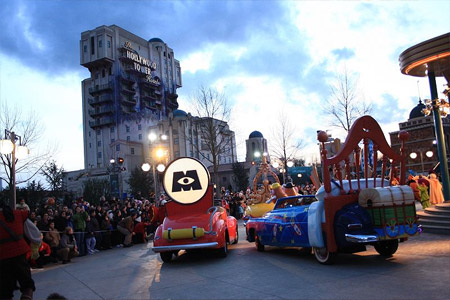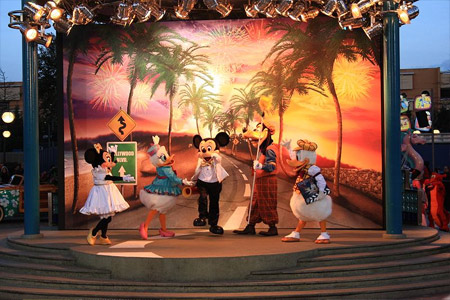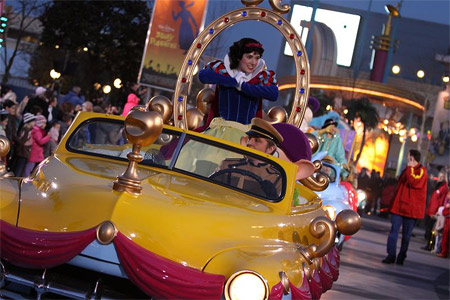 And now, the very first video clip!
This video shows the stars returning back to Toon Studio across Disney Bros. Plaza, with the original "Roll out the red carpet" theme from Disney Stars and Motor Cars Parade now combined with a park closing announcement:
Tonight, 10th March 2009, at 6.30pm, the Stars 'n' Cars will do it all over again in a second and final preview performance, so check back soon for even more photos and videos!
These two avant-premieres are designed to test both audience reaction and the handing of the event by park operations, to tweak or improve the performance if necessary before its actual premiere on 4th April 2009.
Photos: 1, 7, 8, 10, 11, 12, 13, 15, 16, 17, 18, 19, 20, 21, 22, 23, 25, 26, 27 by Grégory Grienche (more 1 | more 2); 2, 3, 4, 14 by CharactersPhotos Blog (more); 5, 6, 9, 24, 28, 29, 30, 31, 32, 33, 34, 35, 36 by Aléxandre Rosa (more); Video: pitiguigui, YouTube.