The heart of Toon Studio has seen little change inside its walls since 2002, despite a change of colour to its exterior, new Peter Pan statues from Florida, new trees and the incredibly close arrival of Hollywood Boulevard.
Now, Art of Disney Animation is presenting a refreshed film in its Disney Classics Theatre, the second room of the tour. After discovering the history of animation and a little about how Disney began to revolutionise the art, guests are invited to step through the doors and sit back to enjoy a 5-10 minute compilation of classic Disney scenes, following themes of love, loss, friendship, success and more.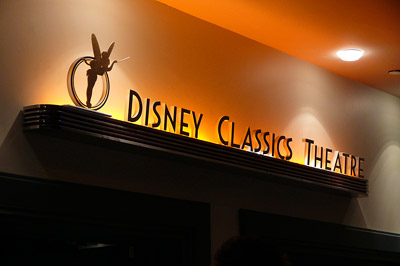 Fans microsan on FPA forum and La Rouquine on Disney Central Plaza report that the film now includes clips from animation released this decade, particularly The Incredibles and WALL-E.
Films more popular with a younger audience, such as Winnie the Pooh and Finding Nemo, have replaced some of the lesser-known clips, and Pixar Animation Studios enjoys a much greater presence throughout, notably with A Bug's Life.
Microsan reports that the colour and sound have been completely remastered — perhaps replacing some of the more grainy clips with ones taken from recent remasters done for DVD and Blu-Ray releases, though La Rouquine confirms that the emotions are still followed in the same order and with the same choice of music.
And the critical response? La Rouquine comments that it doesn't seem to flow as well as the original film, whilst "lodoss" on the FPA forum shouts "massacre!" and says this version lacks unity. But most, of course, say that any change and update here is a very welcome thing, with the attraction now feeling much more up-to-date.
Notable in its absence from this new version is the gunshot heard as the montage cuts to Bambi's realisation of his mother's death. The upsetting excerpt is now apparently a little shorter than before.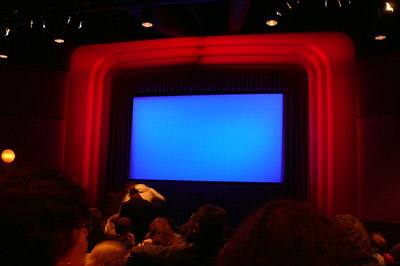 Perhaps nothing more than a coincidence, it's worth mentioning that this week's park programme has added an extra Closure & Refurbishment to the list, marking Art of Disney Animation down for a closure this Friday and Saturday, 27th and 28th March 2009.
The rest of the attraction, including its pre-show, post-show and Mushu "Drawn to Animation" show currently remains exactly as before.
Pictures: DLRP Today.