Has someone at Disneyland Resort Paris been reading the several less-than-optimistic murmurings about the upcoming Mickey's Magical Party online? It looks like they're bolstering the escape routes in anticipation…
No no, of course not. This past weekend, more construction walls arrived around Central Plaza to close off two secondary paths which lead to Frontierland and Discoveryland avoiding the main hub. You might have used them to leave quickly on a Summer evening, or to rush to your first attraction in the morning — you can spot them on our Main Street, U.S.A. map, and they're one of the unique features of Paris' hub.
Not so much accepting that downbeat fans will want to skip the Party then, more accepting (again) that Central Plaza was never built to handle these large, popular shows at its core.
For Candleabration, such a huge gathering of guests blocking all routes into the park is usually fine, since there's only one show a day and it happens just before everyone leaves.
But think about the new show — It's Party Time… with Mickey and Friends. Up to five performances a day, all the popular characters — perhaps even (if we're lucky), the main core of the Plaza (its raised curb/sidewalk area) being closed completely to guests, allowing everyone an even view.
There's going to be an awful lot of people crowding the foot of Main Street, U.S.A., meaning those who've already seen the show, or don't want to see it, will have to all squeeze down these extra routes.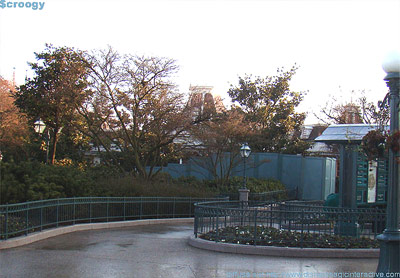 View by Plaza Gardens/Tips Board
The only thing known about this work is that it will "widen" the paths. Concerns about the lack of space for popular shows here was only raised as recently as this Christmas, when, for safety reasons, the park's record attendance meant that none of the scheduled performances of Enchanted Candleabration were advertised on the park programme, in case such a large volume of people appeared that all walkways were blocked.
Photos by Scrooge, Disney Magic Interactive forum.