Will Disneyland Park be decorated for Mickey's Magical Party? You bet it will. Though perhaps not as strongly as for the 15th Anniversary, you can expect to spot the year-long celebration even when none of its three Disneyland Park events are happening.
The first item on the (small, it should be said) list of decorations is a new look for Main Street's "seasonal" giant white lampposts. "Seasonal" because they were first introduced as the Princess chandeliers for Christmas 2005, before being converted to hold the large, blue, LED-encrusted Lumière banners we've enjoyed for two whole years of the 15th Anniversary…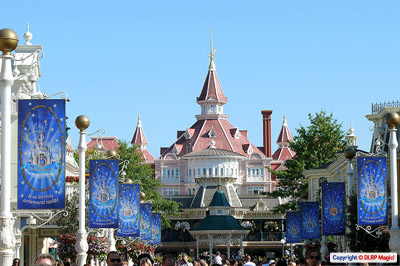 …And the resort's Entertainment department doesn't plan on retiring them any time soon.
From late next month, expect to see Main Street, U.S.A. lined by lampposts transformed into a whole new style, covered with bright, multi-coloured streamers (similar to those seen at the American parks), topped with yellow "Mickey Mouse" shapes and holding blue circles showing an image of not only Mickey, but Donald, Goofy and Pluto too.
Retlaw on Disney Central Plaza forum managed to capture the first photo of the first "test" lamppost to be converted, hiding behind a backstage hedge: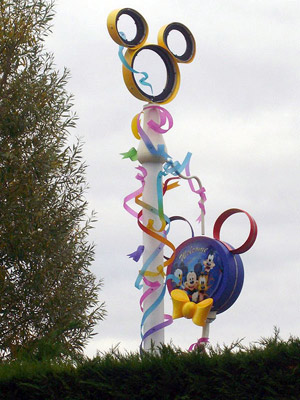 The design is… eclectic, shall we say, and certainly far more modern than the classically-styled 15th Anniversary banners. The bright mixture of colours and the overall design of the streamers wrapped around the white poles closely resembles designs seen at the entrances of Disneyland in California and Magic Kingdom in Florida for their various celebrations over recent years, a sign that perhaps Paris has been swayed into following suit (by a "suit") — or that our resort's Entertainment team merely saw and liked the design.
As DLRP Times blog reported in January, the old 15th Anniversary banners have already all but disappeared: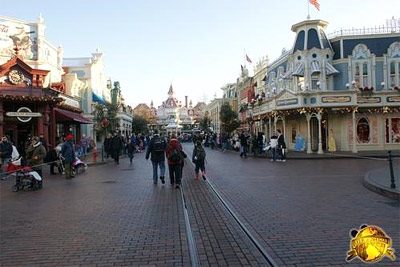 If you'd been planning to join the advertised "finale" of the 15th Anniversary this Winter, you'd miss both the regular Candleabration and the beautiful illuminated decorations.
With all the lampposts now backstage being prepared for the Party, it's a chance to enjoy a brief spell of Main Street, U.S.A. as it was originally designed by the Imagineers (remember them?). Expect the bright colours of the party to begin arriving in the second half of March, ready for the 28th March 2009 press events.
Photos as credited.