Guests had the unique opportunity to meet both Mickey and Minnie Mouse together, at once, in Town Square, or both Donald and Daisy Duck near Casey's Corner.
As the Characters Photos Blog reports, Mickey and Minnie came dressed for the occasion in special costumes — Mickey with red hearts decorating his shirt and Minnie in a bright pink polka-dot number: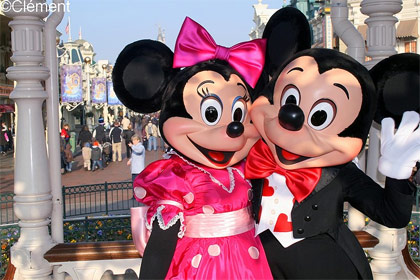 Never one to miss a new trend, however, Minnie was also spotted in a different — even more loved-up — dress over the weekend by Scrooge at Disney Magic Interactive forum: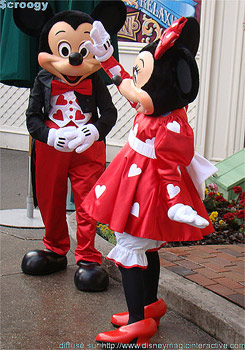 A scattering of white hearts replace the classic polka dots on her dress, which has longer sleeves and extra red trims!
Between their regular clothes, Christmas and Halloween costumes, Welsh and Irish dress and individual park and land outfits, the wardrobes of the happy couple continue to grow!
Photos as credited.