Remember back in July 2006? One of the first articles published on a little site called DLRP Today revealed the hotly-anticipated visuals and brochure covers for the 15th Anniversary Celebration. Now, at the start of a brand new year, let's do it all over again!
Key Visual
The visual we'll be seeing most of all throughout Mickey's Magical Party is that below, showing Mickey reaching out to you with an invitation as Minnie, Donald, Goofy, Chip 'n' Dale and Stitch dance beside him…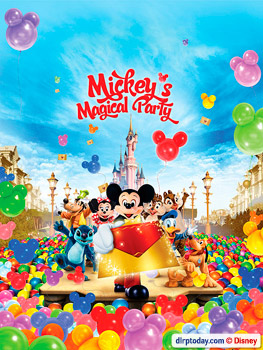 "Is that really Stitch?", you ask? Well, it's meant to be. The characters in these first two visuals are designed to be half-way between the real in-park characters — which often don't actually look too good in the glare of a key visual — and the kind of 2D illustrations we saw through most of the 15th Anniversary graphics — which might not be considered "real" enough.
With a blue sky overhead, the red text of the celebration's logo contrasts nicely, as do the carefully-selected palette of coloured balloons. Even Main Street's lampposts have turned a yellowy-gold for the occasion, but don't expect that to happen for real.
Second Visual
The second visual is really just a variation on the first, with a more dramatic, firework-filled sky and balloons surrounding the entire visual. You'll spot this one being used more for posters and other advertisements.
The invite inside the envelope will usually read "You're Invited…", but in all these visuals the envelope is left blank, to be filled in in whichever language is required.
Brochure Covers
That's also true of this next set of visuals, not published online anywhere before, which will be used as travel operator brochure covers throughout the celebration.
The style is more than a little reminiscent of the original 15th Anniversary brochure covers, replacing candles with balloons and introducing some rather rare characters, not usually chosen for these kinds of visuals. There are so many different variations, in fact, that it'll be interesting to see just how many different brochure covers can be collected through the year.
If you can't wait to collect them, here's the exclusive full set: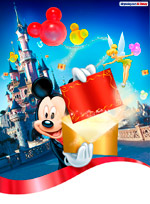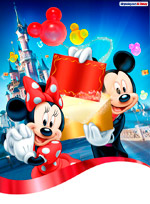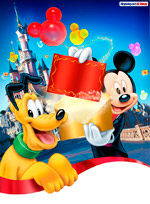 Mickey & Tinker Bell / Mickey & Minnie / Mickey & Pluto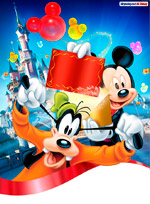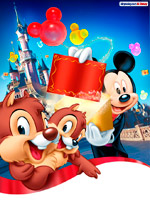 Mickey & Goofy / Mickey & Donald / Mickey & Chip 'n' Dale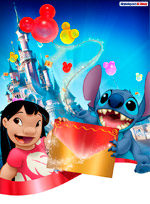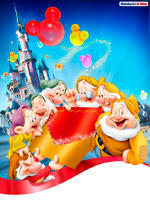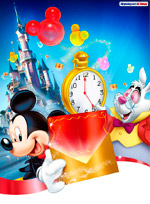 Lilo & Stitch / Seven Dwarfs / Mickey & White Rabbit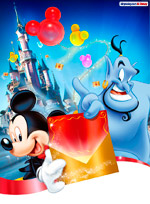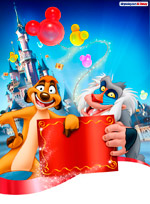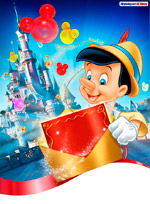 Mickey & Genie / Timon & Rafiki / Pinocchio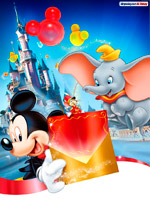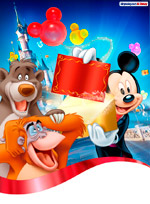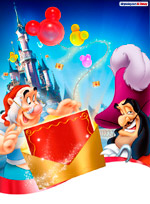 Mickey & Dumbo / Baloo, King Louie & Mickey / Mr Smee & Captain Hook

Lilo & Stitch… The Jungle Book… Genie… Robin Hood..?! The guest list for this party is pretty impressive indeed. But still note — not a single Pixar character in sight!
All visuals © Disney.