Unlike the similar attractions already operating at Disney's California Adventure and Disney's Hollywood Studios, Playhouse Disney – Live on Stage! at Walt Disney Studios Park has the benefit of opening after the major rebranding of the Disney Channel's networks.
The current Mickey Mouse silhouette logos that sit in the bottom-left corner of TV screens were introduced in 2002, too late for both of the original Florida and California attractions which, despite being updated to introduce brand new characters and scenes last year, have retained the old squiggly-lined logo outside.
Last year's update did bring in the new logo in several places, however, including as a projection on stage before the show begins. For Disneyland Resort Paris then, it's simply a matter of "copy and paste" — et voilà — here's the logo for the Studios' newest attraction: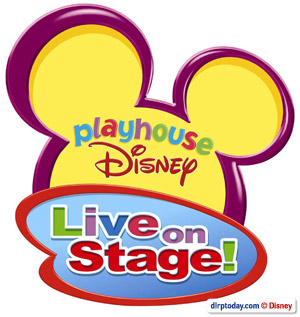 Having said that, "Live on Stage!" won't mean an awful lot to the resort's potential guests who don't speak English. And so, a special, simplified version has been created to cover all other languages, reading "Playhouse Disney – Live!":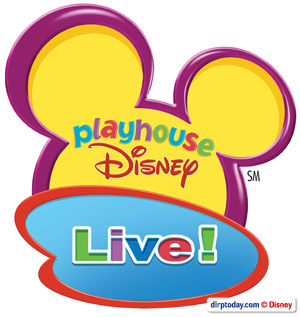 What's more, the Paris edition has also been granted its own special poster artwork to advertise the new attraction.
The key visual features the characters of Mickey Mouse Clubhouse, Little Einsteins and Handy Manny peeking out from behind a classic red curtain, with a spotlight trained on the show's logo…
Though none of the official texts, artworks or promotions would have you believe it, the characters of My Friends Tigger & Pooh do also appear in the show.
As a touch to match the theme of Mickey's Magical Party, several balloons have also been added. And Mickey's candle? This simply confirms that Paris will indeed recieve a near-identical version of the show to the States, with the Clubhouse characters using their scene to organise a special birthday party for… Minnie!
— Find a new preview guide all about Playhouse Disney – Live on Stage! here.
Logos & artwork © Disney.