Boys and girls of every age, wouldn't you like to see something strange?
As confirmed by the official Disney's Halloween Festival 2008 press release, two special gruesome guests will be awaiting us on Boot Hill next to Phantom Manor this October — the "pumpkin king" Jack Skellington and his stitched-up ragdoll love Sally.
But how will the park turn these classic stop-motion animation characters into real-life, human-sized meet 'n' greet characters? For our answer, we need only to look to Hong Kong. Here, last Halloween at the mouse-sized Hong Kong Disneyland, the world got its first regular, daily glimpse of the official Disney character versions of these two nightmarish stars, previously confined to rare "press event-only" status in the US.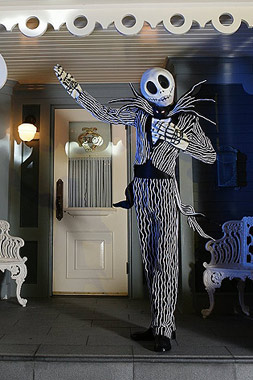 Jack Skellington wears his trademark white-striped suit and giant spider bow-tie, with oversized skeletal hands and a large skull head with blacked-out eye sockets. The head is less round than the stop-motion original, the eye sockets more drawn-out and taller — mostly to allow that real, living human head to fit inside.
If you think this interpretation of Jack Skellington is a success, wait 'till you see Sally — covered from head to toe in a lifeless, limp blue colour, she has electric red hair and stitches patched across her face and limbs.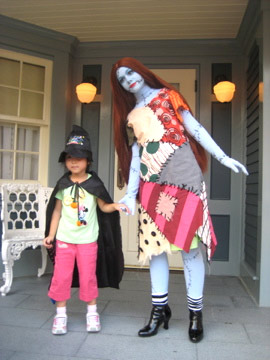 Picture: santasock, Flickr
Her dress is like a large patchwork quilt, just like in the film, and the only part of her body that seems alive are her lips — in a brilliant, full red.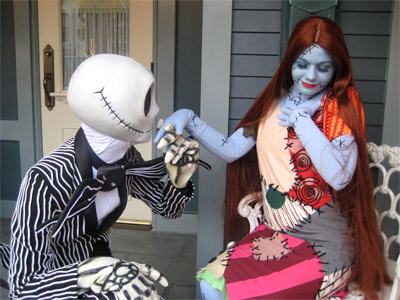 Picture: santasock, Flickr

The two characters will make their Western debut at Disneyland Resort Paris on 4th October 2008, appearing at Boot Hill as well as in the main Halloween pre-parade.
[Pictures: Flickr members; © Disney]