The thing is — the anticipation surrounding this parade, that, after years of rumours, was finally retired from Disney's Hollywood Studios park in Florida earlier this year and brought to Paris, is not just anticipation to see it in Paris. It's an anticipation to see what Paris do with it.
Famously slow on the eyes despite its pleasing cavalcade of themed motor cars and a wide variety of stars, the news of the parade's move to Paris was met with some hesitation from fans who'd seen it right from the word go.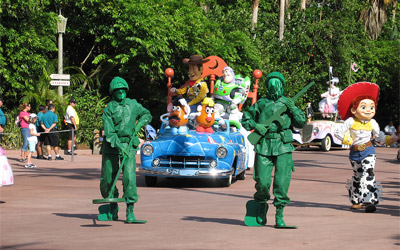 "Green Army Man in Surgery Shock"
Considering Disneyland Park right next door now has a parade — Disney's Once Upon a Dream Parade — with so many characters, dancers, static props and moving puppets that it literally bombards your senses as it passes, would something as mellow as a Hollywood-style cavalcade of film stars in cars be enough for the second gate, just metres away?
And here, apparently, is the answer: no, not quite.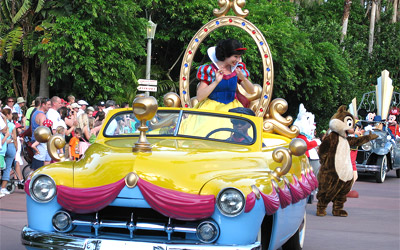 The Studios' wish comes true — a real Disney Princess on its parade route!
So, what will the Entertainment department of Disneyland Resort Paris do with those highly-themed motor cars, now sitting backstage since April this year? For an answer to that, you have to look to what inspired this parade's move to Paris in the first place — the original version of a popular Walt Disney Studios Park character event — Good Morning Walt Disney Studios.
Because, though this cavalcade of regular classic cars carrying Disney stars was hardly a dazzling show-stopper as it passed by you on the parade route, it was always one of the most memorable events of the day. As the cars hit Production Courtyard, they took a turn and parked up, letting the stars step out of the cars for a 20-minute meeting with their fans.
In that same vein, let us not announce Disney Stars and Motor Cars Parade for 2009, but instead: Disney's Stars 'n' Cars Event.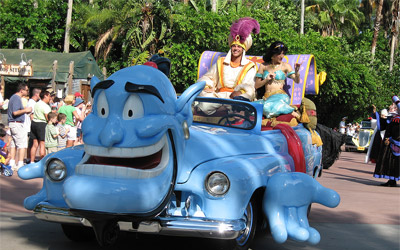 Two Genies at once in Toon Studio! Nescafé would call that Genie Genies.
No longer a parade, now an event! And those earlier rumours from several months ago were entirely true — it WILL be split into three distinct, different events, happening throughout the day, in three set locations of Walt Disney Studios Park. Imagine it like three unique Good Morning Walt Disney Studios-es happening at the same time, in different lands, several times each day.
Let's also confirm the full list of cars that have arrived safely in Paris from Florida: Mickey and Minnie, Aladdin, Lilo & Stitch, Mary Poppins, The Little Mermaid, Snow White, Villains, The Muppets, Toy Story, Playhouse Disney, Monsters Inc and Star Wars.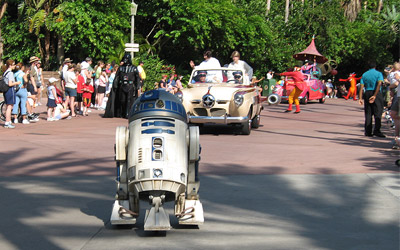 Star Wars gives Walt Disney Studios Park the fffo…fforc..franchise!
Star Wars in Paris? Yes! Though rumours suggest that Luke and Princess Leia will infact be replaced by Darth Vader, with C3PO running alongside (though latest reports say he has yet to arrive…).
The Muppets in Paris? No! We can reveal that the plan is to turn this green and wooden car into a kind of automobile-ship for none other than Captain Jack Sparrow! This would be the Pirates of the Caribbean stars' first ever daily Disney parade appearance — albeit as part of an "event", not a "parade", we must remember…

Muppets no more — welcome Jack Sparrow to the Studios!
In addition, a rumour we left out of our previous article might now have a little more truth, considering the new resident we're spotting on Hollywood Boulevard each day. One of the cars in the parade will feature Cruella De Vil — which one? Most likely Florida's original Villains car transformed, though some rumours did suggest the car from outside Studio Tram Tour could be brought into working order… She will get her way and arrive as part of the 'Event', either way.
So, the only cars not to appear in Paris are the Power Rangers and Grand Marshall (a car for guests to appear on) units. But will we see ALL the cars that have arrived out in the park next year? Maybe not… we'll have to wait and see.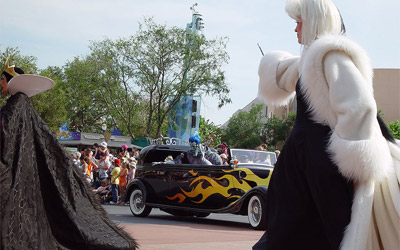 Watch out Hades — Cruella is coming…
Added to the mix and redecorated, if early plans go ahead, would be the old Cinema Parade Van, now running as part of this year's cut-down Good Morning Walt Disney Studios, and the Toon Car, currently running in the pre-parade of Disney's Once Upon a Dream Parade. Only four cars for each of the three spots were marked out in the original plans.
The three spots envisaged for the Stars 'n' Cars to arrive and stop for the meet 'n' greets are: Backlot (outside Moteurs… Action!), Hollywood Boulevard (where Cruella currently stops in her regular Cadillac) and Toon Studio (the area between Animagique and Cars).
Now, 760 words and plenty of revelations later — how's that new name settling in? Don't worry, we've still got many more months to get used to it before April 2009…