It was only on 2nd April this year that DLRP Today broke the news that a Disney official had finally confirmed Florida's retired Disney Stars & Motor Cars Parade was due to make the long journey across the Atlantic to Walt Disney Studios Park here in Paris. But, just a few weeks later, the cars had already arrived in the backstage parade warehouse at Disneyland Resort Paris, as shown in these pictures below, from an unknown source.
All parts of these pictures except the cars have been blurred out.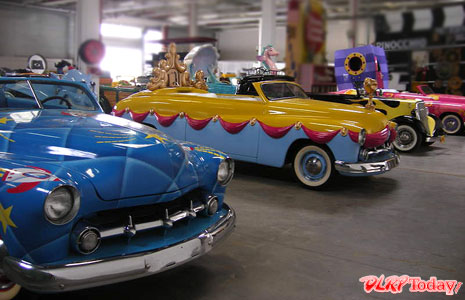 So, what can we see? Did all of the cars make it safely across the pond? Ever since the parade was even rumoured to be coming to Paris, nay-sayers have discussed at length the improbability of Disneyland Resort Paris featuring a parade with such "far-out" characters as Playhouse Disney, Power Rangers, Star Wars and The Muppets.
The first picture, above, shows the following cars, left-to-right front-to-back: Toy Story, Snow White, Disney Villains, Playhouse Disney, Aladdin, The Muppets (hot air balloon removed for transportation), The Little Mermaid.
The second picture, below, shows the following additional cars, left-to-right: Mary Poppins, Lilo & Stitch, Monsters Inc, Mulan.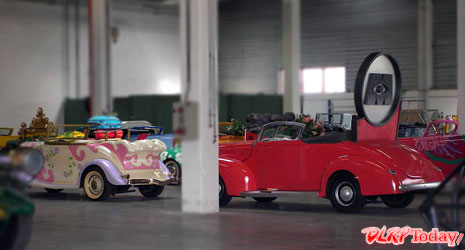 As you may have already noticed, the futuristic cream-coloured Star Wars car is notably absent, as is the outlandish lightning-themed Power Rangers car. Neither were truthfully expected to appear in Paris, considering both the different audience and character licensing contracts here. The only other missing car is the Fab 4's old-timer, used as the parade's finale, which is still expected to show up.
The Muppets and Playhouse Disney are surprisingly present… but will they make it to the parade? Rumours have now shifted to which cars could be stripped down and rebuilt for different characters before the parade premieres. Our sources suggest the strongest contenders at the moment are, surprise surprise: The Muppets and Playhouse Disney — but also the Disney Villains car.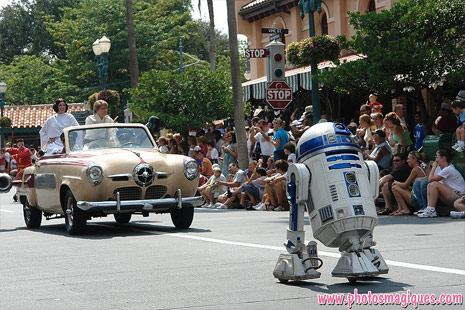 Missing: Star Wars
Disney's Once Upon a Dream Parade introduced a float dedicated to the Villains last year, so a double-up does seem unlikely. Will the Stars & Motor Cars Parade be a saintly event from start to finish, then? You must be joking! That same 'Dreams of Power' float is missing one of Paris' favourite villains that, from what we're hearing, sounds like a very likely new star for the parade: a vicious female with a taste for… fur.
Another character apparently popular with the parade directors to be featured in the Paris edition is Captain Jack Sparrow, which would make this his first ever Disney parade appearance.
Look between the cars, however, and things get even more interesting. As recently announced by insider "zanderstarz" on magicforum, new characters, dance units and "skill units" will fill out the entire parade. When it finally premieres in Paris, expect to see new features such as stilts and sky runners alongside additional characters like The Incredibles, Ratatouille and perhaps the retired Finding Nemo pedal-along from Disney Cinema Parade.
Our sources add that alongside many new costumes and props, older items from the likes of Disney Cinema Parade and the Kids Carnivals could be recycled.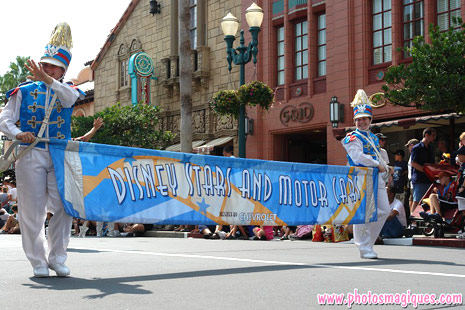 It's all in the show: Original Florida units, can Paris do better?
Finally… how will it be performed? This question appeared out of nowhere after several insiders suggested the parade could even be split into three or four "character events", rolling out into the park several times a day like a more frequent edition of the classic Good Morning Walt Disney Studios concept. This leads into the suggestion from our source that the name could even be changed to 'Disney's Stars 'n' Cars Event', and would fit in with several other concepts being discussed for 2009's Mickey Mouse-themed year of celebrations.
And, whilst the rumours that Playhouse Disney: Live on Stage could premiere as early as Christmas now appear to have spread also to the Stars & Motor Cars, which wait patiently in the "green room" backstage, other insiders indicate rehearsals will only start in December, with the premiere scheduled for late March 2009.
Phew. Maybe we should have expected all this. When there are big American stars (not to mention their motor cars) involved, nothing is ever simple…
— PhotosMagiques.com has photos of the original parade and all its cars and stars here.