Dramatic, colourful lighting, projections on Le Château de la Belle au Bois Dormant, fire-eaters, stilt walkers and many strange Narnian-esque creatures roamed the courtyard to provide an extra after-party of entertainment for the assembled guests and celebrities from across Europe.
Such a party in this area of the park is quite unusual and certainly hasn't been seen for many years. With plans for Paris versions of Mickey's Not-So-Scary Halloween Party to be held in Fantasyland this October, this could even give an idea of the special mood lighting of those upcoming events.
Effects included smoke from inside the castle and lights up inside La Galerie de la Belle au Bois Dormant, changing colour to illuminate the stained-glass windows in spectacularl fashion throughout the show.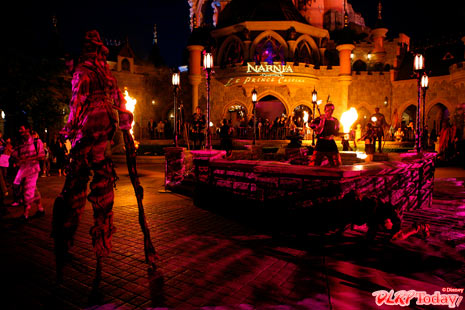 Fire artists and mythological stilt-walkers take over the courtyard, lit in rays of rich red light.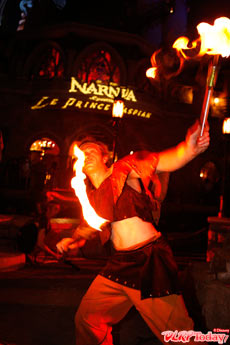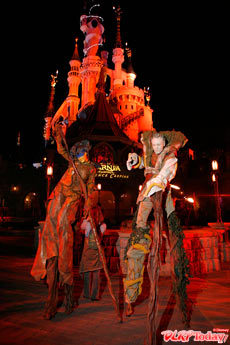 The film's logo is projected on the gallery balcony behind, with the stained-glass windows illuminated in red as the creatures and stunt performers roamed around, interacting with guests.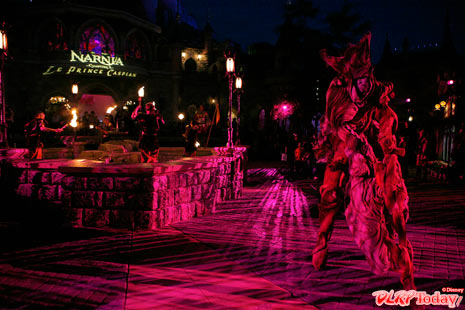 Dramatic lighting changes from fiery reds and pinks…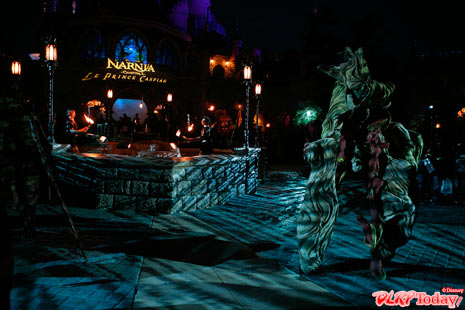 …to cool blues and greens, with the stained-glass behind joining in.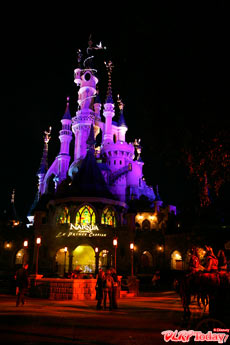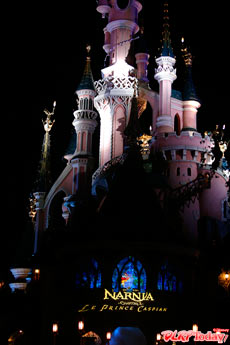 Guests stepped through a wall of smoke inside the Castle to enter this live version of a Narnia-like world.

Whilst Fantasyland appears to have been seized as the perfect place to host Narnian events for the launch of Prince Caspian, the royal figure himself had already made plans to make his daily appearance elsewhere…
« Part 2 of our Prince Caspian series '¢ Part 4 of our Prince Caspian series »
[Photos: © Disney]
The Chronicles of Narnia: Prince Caspian is released in the UK tomorrow, 26th June 2008.