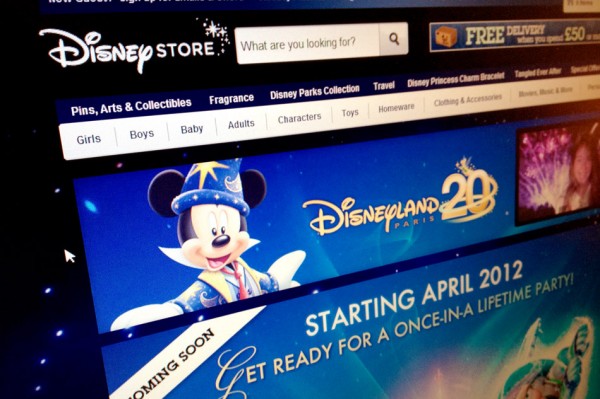 So you just have to get your hands on some of the 20th Anniversary merchandise, but don't have a trip to Disneyland Paris planned any time soon? First of all: why not?! Second of all: help is at hand! A special "Disney Parks Collection" holding page has been added to both the Disney Store UK and Disney Store France websites, promising that a range of products from the resort's new merchandise collections will be available to buy online. The page is notably absent from the German Disney Store site.
The page reads: "From April 1, 2012, Disneyland Paris invites its guests to celebrate its 20th anniversary, in sparkling and magical style. Lots of surprises and new features have been imagined, to provide an explosion of magic, lights and colour. For all of us who love shopping in Disney style, there will be great new Park exclusive products: T-shirts, mugs, toys, collectibles, clothing, hats and souvenirs… Stay tuned and sign up for our emails to be the first to know about the brand new 20th anniversary Disneyland Paris product range."
Previously, your only hope of ordering souvenirs from Disneyland Paris outside of the resort was to personally email their own mail order department. Such a tie-up with Disney Store is an interesting move; while the US store has long stocked a wide range of Disney Parks merchandise, the slightly detached nature of Disneyland Paris from the Disney empire, in corporate terms, has presumably made this a more complicated deal. It could be expected that while Disney Store will benefit from new sales, particularly from lucrative fans and collectors, Disneyland Paris itself will benefit from the increased exposure alongside the store's hundreds of general Disney products.
You can sign up on the preview page to be notified when the Disney Parks Collection arrives in from Paris, which is expected to be from 1st April onwards.