We've known the frights of Disney's Halloween Party for over 10 years now. The special "hard-ticket" event begin in 1997 and has continued to bring a more adult, eerie and frightening evening of entertainment to Disneyland Park every year since on 31st October — occasionally with additional dates.
Now, as Disney's Halloween Festival enters its second decade of events in Paris, the entertainment directors are planning their biggest shake-up of the after-hours parties yet. You might have already heard the rumours earlier this year, but if not, we'll announce it for you — Mickey's Not-So-Scary Halloween Parties are coming to Paris!
This will be a brand new, extra ticketed event for Disneyland Park playing across three Fridays (10th, 17th and 24th) and one Tuesday (28th) in October 2008. Though the name comes directly from our friends over at Walt Disney World Resort in Florida's Magic Kingdom park, the event in Paris will be entirely different and, at least for its first year, quite a bit more intimate. There will be no Boo-to-You Parade or Hallowishes fireworks, the name is, in fact, the only similarity.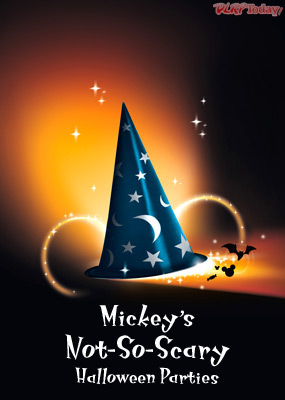 Official advertisement visual.
Central to the occasion will be Fantasyland, made over with special decorations and illuminations, welcoming you not only to almost all its attractions but exclusive new shows, entertainments and character meets throughout the land.
Here's the full press release:
NEW: Mickey's Not-So-Scary Halloween Party

This year, Disneyland Resort Paris will host 4 brand new parties at Disneyland® Park during the month of October 2008 for younger guests who like to dress up and want to celebrate Halloween with Disney Characters.

The Mickey's Not So Scary Halloween Parties welcome families for an evening in Fantasyland® dressed up as Halloween for the occasion. Fantasyland will have a special décor giving an unusual atmosphere with exclusive night time shows, and roguish Disney Characters and Jack Sparrow, new music, and Streetmosphere and many other surprises.

Guests will sing, dance and laugh with Merlin and the four surprising witches: Minnie, Lilo, Daisy and Clarice in the castle courtyard and will enjoy the final Halloween happening at the end of the evening.

Snow-White and the Seven Dwarfs, Pinocchio's Fantastic Journey, Le Carrousel de Lancelot, Peter Pan's Flight, Dumbo the Flying Elephant, Mad Hatter's Tea Cups, 'it's a small world', Sleeping Beauty Castle, Pirates of the Carribean will be open.

The Mickey's Not-So-Scary Halloween Parties will run from 8.00pm to 11.00pm. (Dates: October, 10 … 17 … 24 … 28, 2008) and the Parties ticket holders can benefit of entering the Park as early as 5.pm.

**Mickey's Not So Scary Halloween Parties tickets will be available at 25€ for adult and children (free for children under 3 years old). Attendance is limited for these events in order to ensure premium experience, we recommend to buy tickets in advance on www.disneylandparis.com or to call + 33 1 60 30 60 53
The idea is to tap into some of those brand new younger guests now visiting Disneyland Resort Paris in greater numbers thanks to the long-running "Kids Under 7 Stay & Play FREE" promotion of the 15th Anniversary years. The target age will therefore be 4 to 7 year olds, with these Fantasyland attractions and friendlier characters chosen to suit. The party also therefore ends a little earlier than that of the 31st October, at 11pm, and stays within Fantasyland for the duration.
However, with the promise of special entertainments created just for these four parties, not to mention new costumes for many of the characters and the chance to enjoy Fantasyland and Pirates of the Caribbean at night — likely under the glow of special illuminations — it should be a welcome new addition to the Disneyland Resort Paris calendar for even the oldest fans.
Tickets are available to book now via your local Disneyland Resort Paris hotline.
[Images © Disney]