In our last report on the iconic entrance building's plight, we discovered scaffolding climbing up its façade again. Not for a new billboard, we believed, but for a long-awaited refurbishment. Correct! What we would not have expected, for a building treated so badly by Euro Disney SCA over the past five years, would be a brand new –temporary — covering for the building.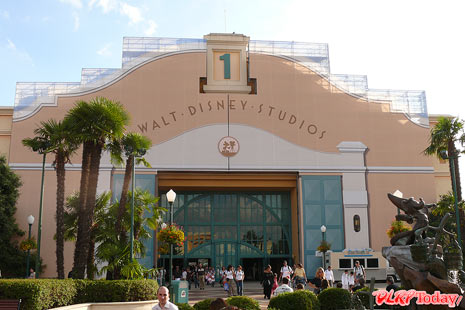 A huge fabric/tarpaulin covering, hiding the scaffolding completely, decorated with a huge image of the building itself. See it from a distance, and you can't even tell it's there — Disney Studio 1 looks as if it's back to its glory days already!
As you get closer to the park, the effect of removing the second 'Cars' billboard truly becomes apparent. For the first time in years, we see beautiful reflections in the glass at the front of the building and the entire Place des Frères Lumière finally once again feels like the extravagant, beautiful, sunny entrance plaza to a true Disney theme park it should be.
But wait — it gets better. Around the back of the building, we can spy a match-up we've been waiting years to see. The façade of Disney Studio 1… and a "Wet Paint" sign!
The turquoise/green doors and 'Studio 1' signs were repainted here last week. There's currently no word whether the huge wall of scaffolding might also move around here to repaint the arguably much worse-looking walls above, but let's hope so.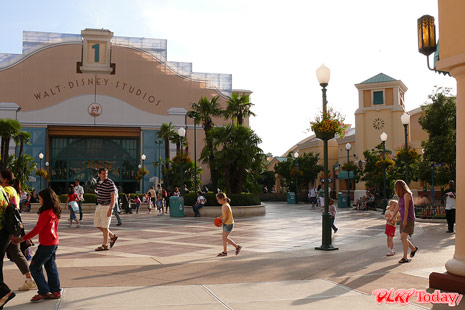 To decorate the giant soundstage — at the time of construction, the largest in Europe — with a huge temporary façade during its refurbishment obviously shows that this first image guests receive as they step through the turnstiles is indeed very important. The same way Fantasia Gardens is a beautiful and inviting entrance to Disneyland Park, designed by the Imagineers because of their realisation that Europeans liked to be enchanted a little before parting with their money, Front Lot should be a glossy and relatively commercial-free area.
So, let's keep it this way, please. No more billboards!
[Photos: DLRP Today]