And here they are — more from Minnie's Party Train, Tinkerbell, Stitch and the ongoing Walt Disney Series, this month celebrating the Disney Cruise Line. There's even a pin-version of the popular "I Heart MK" shirt — that's Mickey, not Milton Keynes.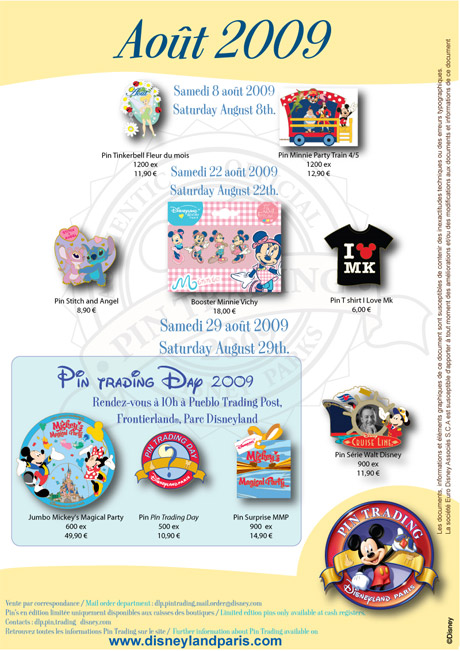 The big news is down at the bottom, though — the now-annual Pin Trading Day, which has fallen again on the final weekend in August. Past events have seen special collector boards handed out with a free pin at the park gates, and a list of boutiques to visit to collect the rest. No word on if this will return for 2009, but the day will nevertheless be one not to miss for fans — whether you're a fan of Pin Trading or not.
Acting as a central meeting point for the day, as you can see noted in the advertisement above, is the aptly-named Pueblo Trading Post! This lovely little boutique in the native wilds of Frontierland, just before you come to Pocahontas Indian Village and opposite River Rogue Keelboats, has been closed shut and mostly forgotten about for over 10 years — perhaps since as long ago as 1995.
Now, the Pin Trading team has rediscovered it — and in fact, already held an event there recently — when the "Vinylmation" collector figures were introduced last month. However, the location is still a little off the beaten track, even with the keelboats brought back to life opposite, so any chance of a full-time return to use is hopeful to say the least.
But, for this one day at the end of the Summer season — Pin Trader or not — you've got the chance to conquer possibly your last undiscovered corner of Disneyland Park.
Pictures: Photos Magiques (more).