It's the much anticipated grand opening of dark ride Toy Story Midway Mania at Disney's California Adventure park and the impending US release of sure-fire Summer blockbuster WALL-E that has brought the business world's attention back to the mouse's relationship with that desk lamp.
Whilst it was Disneyland Resort Paris that benefited most from the rekindled Disney-Pixar relationship last year, with inspiration for the Toon Studio expansion, all this talk of big-budget films and 4D interactive dark rides certainly doesn't leave our homeland completely in the dark.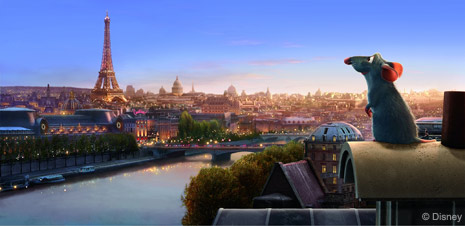 In a post on CNBC.com's Media Money blog, found by member Yesitsme on magicforum, writer Julia Boorstin investigates how Disney has used the characters of Pixar to bring a new generation to their theme parks. Hinting at projects yet to come, she name-checks the well-known 'Carsland' expansion at California Adventure, and then something a little less well-known, for much closer to home…
There's no question that Pixar is an increasingly important driver of Disney parks. The last big attraction Disneyland launched was its "Finding Nemo" Submarine ride last year, it's working on a big "Cars" attraction for Disneyland and a "Ratatouille" ride for Euro Disney outside Paris. All these rides further proof of the fact that Disney's acquisition of Pixar was about much more than just a movie studio, it was about building brands to exploit across all its platforms, which is CEO Bob Iger's big strategy.
That's it, folks. A 'Ratatouille' ride for Disneyland Resort Paris!
More specifically, as we've all already guessed, for the back of Toon Studio at Walt Disney Studios Park. To repeat the rumours from DCP forum member Grandmath we shared in our last update, some current plans spotted backstage show a very large showbuilding connected onto the Costuming building and sitting across part of the current Studio Tram Tour road, which has been rerouted.
The balloon height tests appeared to suggest a building about the same height as Studio 5 — the Crush's Coaster building. The exterior is widely suspected to be based on Gusteau's restaurant from the film, but this fact has yet to extend beyond a guess.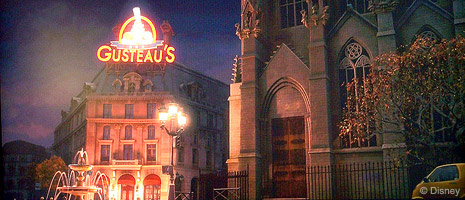 What kind of timescale are we looking at? If DLRP Today sources are correct, don't expect to meet Rémy in any way other than a meet 'n' greet on Toon Studio Plaza for some time yet. The good news here, though, is that this attraction will reportedly be something quite special. As in, something good enough for the 20th Anniversary…
But, thanks to CNBC, the Rat is officially out of the bag a full four years early.