Ever wished you could see a Disney Cruise ship drop anchor in the UK, in France or in Germany? Stop dreaming — start saving. Disney Cruise Line is returning to Europe, and this time it's coming even closer to home for many Disneyland Resort Paris fans.
For five months, from April to September 2010, the majestic Disney Magic will once again be sailing in European waters, taking guests on brand new family-friendly cruises to the places where the magic of Disney truly began. The ship's first visit to Europe came during the first year of the 15th Anniversary in 2007, when it ran European cruises out of Barcelona, Spain.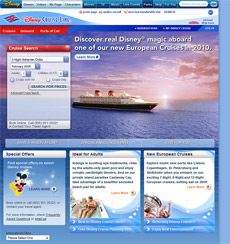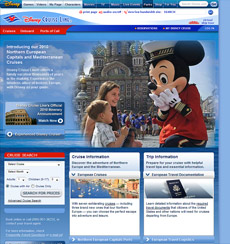 This time, Disney's hugely successful seaborne venture will also be offering a brand new Northern European Capitals Cruise. What's more, you can even book a cruise to enjoy the unique legs of the ship's journey as it travels to and from these main departure ports — transatlantic from Port Canaveral, Florida to Barcelona and — believe this: Barcelona to Dover, UK!
Disney Cruise Line's outgoing president, Tom McAlpin, announced the new routes online:
The new 12-night Northern European Capitals cruises sailing out of Dover include stops at Oslo, Norway; Copenhagen, Denmark; Warnemünde (for Berlin), Germany; St. Petersburg, Russia; Helsinki, Finland; and Stockholm, Sweden; whilst the returning 11-night Mediterranean cruises from Barcelona include Malta, Italy, Tunisia, Corsica and Villefranche, France.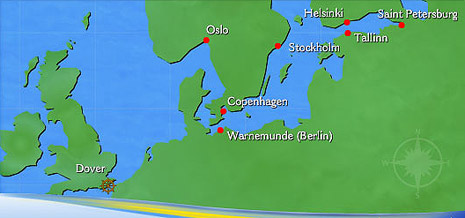 Northern European Capitals Cruise
Or, enjoy a shorter spell on the Disney Magic by tagging along for 8/9-night Barcelona/Dover cruises, which stop at Gibraltar, UK; Cadiz, Spain; and Lisbon, Portugal outward as well as Cherbourg, France and Vigo, Spain on the return.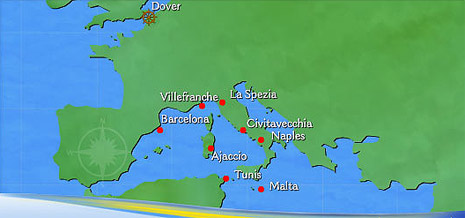 Mediterranean Cruise
You can find all the itineraries and details at the special website here. Better start saving now, though — these cruises will set you back anything from $999 per person to well over $2,139 per person (prices for the longer cruises aren't even listed).
Interestingly, Tom McAlpin was just recently replaced at the helm of Disney Cruise Line by "our own" Karl Holz, former CEO of Euro Disney SCA, operating group of Disneyland Resort Paris, when his New Vacation Opportunites department was merged with the Cruise Line.
Whether Holz will seek to cross-promote the cruises with his Disneyland Resort Paris successor Philippe Gas, the way Walt Disney World does with the Port Canaveral/Castaway Cay cruises, remains to be seen. When the Cruise Line's two huge new ships come into service in 2011 and 2012, there is a strong likelihood the venture will have a more regular presence in European waters, just in time for Disneyland Resort Paris' 20th Anniversary.
However, the business does still seem mostly US-focused. Because, whilst we wouldn't see Europeans taking a Disney Cruise combined with a trip to Disneyland Resort Paris, for Americans already travelling a long distance, a combined parks/cruise package could be a good venture for the resort. Already, the original 2007 cruises were actually highlighted in Paris' 15th Anniversary press releases, and the loading dock in Barcelona did feature a large advertisement for Disneyland Resort Paris.
So, in 2010 at least, the Disney Magic will be much closer than you think… sailing the English Channel, for example!
• Find the Disney Cruise Line's European cruise website here.