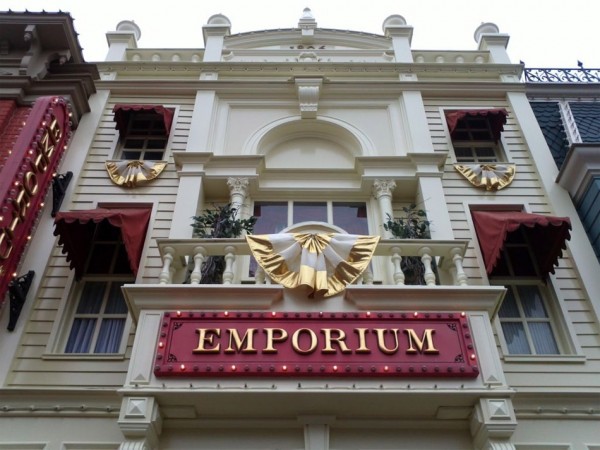 Like gold? Like bunting? Then this 20th Anniversary year Main Street, U.S.A. will be your kinda' town! Despite the countdown clock still standing at more than a month before festivities begin, the town has already begun to receive its commemorative overlay. From tentative beginnings on the awning of Casey's Corner, semi-circular gold and white bunting has begun to line the entire town. Coming in a large and small size depending on the location, these shimmering fans of fabric can already be spotted hanging from The Emporium, Walt's – An American Restaurant, Lilly's Boutique, Disney & Co., Boardwalk Candy Palace, Cable Car Bake Shop and Gibson Girl Ice Cream Parlour.
This follows months of complete restorations to buildings including Walt's and Gibson Girl, plus numerous ongoing clean-ups and repaints right across the street.
Bunting is the traditional way for the other Main Streets around the world to celebrate the seasons and events of the park, fitting naturally within the turn-of-the-century streetscape. While this particular style of flashy gold might require a small leap of period theme, it's certainly favourable to the oversized banners of the 15th Anniversary — or pretty much any overlay to have come before it. Along with the culling of the Pumpkin Men from Halloween and unsympathetic decorations from Sleeping Beauty Castle, it continues a reaffirmed desire to respect the park's original landscapes and stories when decorating for seasonal occasions; refreshing the environments more subtly — and effectively.
These decorations form part of the Main Street, U.S.A. Celebrates! event. Marketed as a "unique celebration of magic, lights and colours with even more twinkles and memorable glowings-on than ever before," it sounds like this spot of bunting might just be the first of the street's surprises…