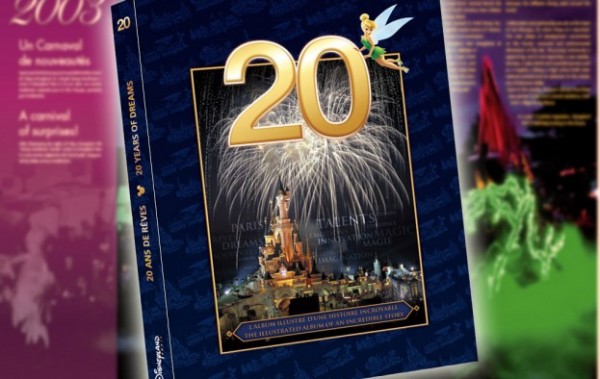 Couldn't quite make it for the 12th April 2012 celebrations? You weren't the only one. Slightly delayed from the shelves of Disneyland Paris boutiques was the new 192-page book all about the history of the resort. We reported its impending arrival late last month amongst the flurry of 20th Anniversary news, and it looks to be an impressive tome indeed. Available as a single 192-page book with both French and English text, it features over 500 images from the history of the resort, charting 20 years of progress and expansion from 1992 to today. And, though the publisher couldn't quite meet the historic date itself, the book does now have a release date: tomorrow, 23rd April 2012!
The official blurb reads:
"Twenty years ago, Disneyland® Paris opened and Walt Disney's dreams came to life in the place where the stories that inspired him were born. Since then, Imagineers, artists and Cast Members have worked together every day to share those dreams with more than 250 million guests. Relive, year by year, highlights from two decades of dreams and innovations at Disneyland Paris, through rare and never-seen-before artwork, photographs and interviews. From Walt Disney Imagineering to the expansion of Val d'Europe, peek into the life of a company that serves the area and those around. 20 Years of Dreams is both a must-have souvenir of Disneyland Paris and a family album covering the first twenty years of Europe's number one tourist destination."
Titled "Disneyland Paris: 20 Years of Dreams" (or "20 Ans de Rêves") and priced at €49.99, it will be on sale exclusively at the following boutiques: The Emporium, The Storybook Store, Harrington's, Walt Disney Studios Store, The Disney Animation Gallery, La Boutique du Château, The Disney Gallery, Disney Store, Galerie Mickey. You can see a glimpse inside here.
If you're not planning to visit or revisit the resort again soon you can also get your hands on one of the 5,000 copies from the first print run via the official mail order service. Call +33 164744486 or +33 164744848 or email dlp.mail.order@disney.com. Note that Annual Passport and other discounts are not available on books.