The modern, silver Ford Focus parked outside, its windows covered in High School Musical 3 stickers, has miraculously disappeared from beside the yellow taxi.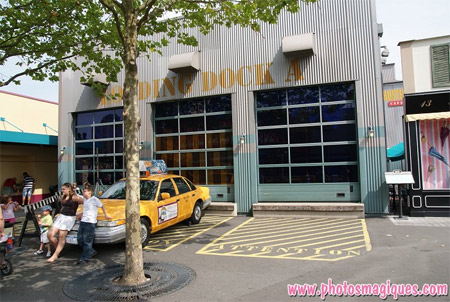 Though vehicles are a feature elsewhere in Backlot, this car looked entirely out of place. So, with a removal, Disney Blockbuster Café actually scores new points.
And inside, those points have begun to mount up considerably when you take a look at the progressing theme in the Pirates of the Caribbean room. The sails, wooden banisters, wheel, yellow stained windows and ship's stern have been joined by at least two huge ships' masts jutting up from the floor at angles.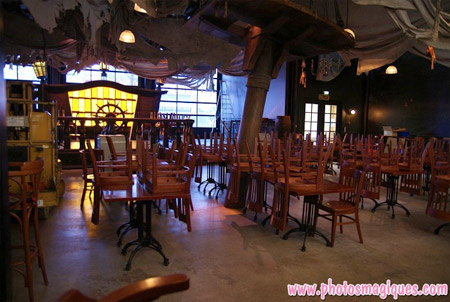 One has a torn piece of wood angled across it halfway up, whilst the other, seen in the picture above, appears to have a crow's nest. Notice also that the large garage windows have been given a blue-tinted covering, perhaps to simulate moonlight!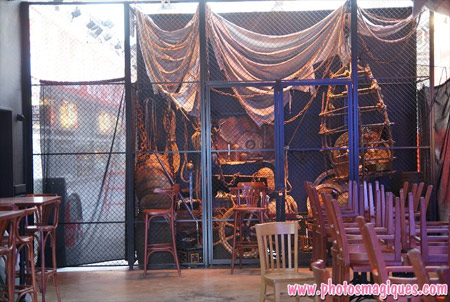 Walking back around looking at the reverse of this area, through the door next to Restaurant des Stars, we can see that the storage cage next to the serving area has been dressed up with a full set of nautical accessories and props, from chests and barrels to bottles, nets and a wheel.
All looking very good — atmospheric, well-dressed. The only problem still? A distinct lack of Disney's pirates. However, perhaps that's where those display cases will come into play. A couple more, in fact, have popped up in the room on the far side of the restaurant.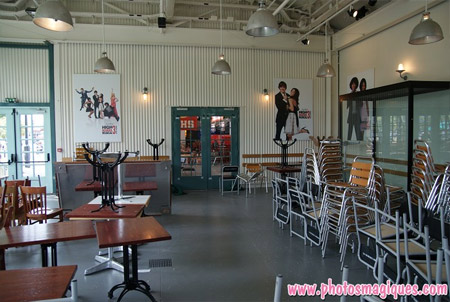 This additional room was actually originally just a raised outdoor terrace, but was soon enclosed for the park's first Winter. It remains very cold, however, heated only by electric coil heaters, and the basic High School Musical posters installed to replace the torn-out props don't help.
Here we can see the other half of the game — whilst the Pirates area is very well-themed but lacking in relationship to the Disney franchise, the 'HSM' area is, honestly, largely unthemed but playing very, very close to the franchise — almost like a walk through the film's publicity department, in fact.
Pictures: Photos Magiques (see more in the latest update here!)