It began 493 days ago. The 15th Anniversary Celebration of Disneyland Resort Paris has certainly rolled on for longer than we all expected — being extended for another year as it was with 'The Celebration Continues' — but, as the final end date has now been announced, it's a worrying concept.
No more Disney Characters' Express, no more Candleabration. No more Lumière banners at every turn or '15s' on everything in sight. We are now really, truly in the home straight on this epic — and, we have to say, wonderful — celebration.
The date it all ends, as confirmed by the latest Autumn/Winter 2008/09 official brochure: 7th March 2009.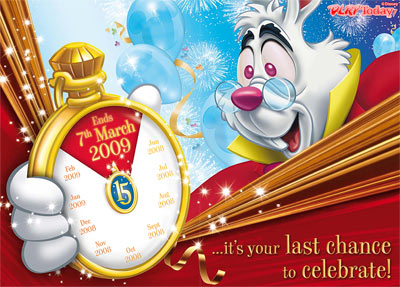 What will happen in the parks that day? Nothing is announced yet. It's the days after, those three lonely weeks before the start of a new season in April 2009, that will be the most interesting.
Disneyland Resort Paris certainly feels to have settled nicely into its 15th Anniversary overlay, and so removing every tiny mention of the celebration — from merchandise through to advertising and all those napkins, cups and decorations between — will be a big task.
What won't be removed? Well, unsurprisingly the expensive and incredibly popular Disney's Once Upon a Dream Parade is here to stay. And don't expect the Casey Jr. train and character meet 'n' greets of Disney Characters' Express to go far. The concept of a main show on Central Plaza is also ready and waiting to be used again.
But, for the 15th Anniversary Celebration as we've known and loved it for so long, that we watched grow from those first logos and concepts through to the incredible launch night fireworks, time is running out.
You've got just 7 months exactly to "live your dream", one last time…
[Images © Disney]