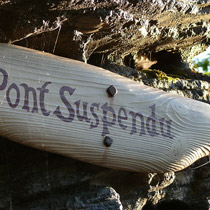 La Mer des Bretteurs — Literally "the sea of swashbucklers", this meandering waterway separates Adventure Isle from the mainland and its African, Indian, Middle Eastern locales. Stretching from the safer, lush green jungle landscape in the south, where supply boats are moored in shady inlets, to the more ravaged white sand beaches in the north, home of pirates and pillagers, the sea can be crossed by any of four bridges.
Le Ventre de la Terre — Ready to get lost so soon? Intertwined with the roots of the huge tree above, home to La Cabane des Robinson, this network of caves is clearly used to great advantage by the family themselves as safe storage for the spices and foodstuffs they have managed to accumulate from the island's natural resources. At several points daylight breaks through into the cavern and you can look upwards for an awe-inspiring view right up the incredible tree trunk.
L'Epave — The Shipwreck, which brought the Swiss Family Robinson to the island, can be accessed off Spyglass Hill by Le Pont Flottant, a unique floating bridge made of barrels and driftwood. Attacked by pirates and washed ashore several years ago, several pieces of the doomed ship now make up the Swiss Family Robinson's ingenius treehouse and its environs, from the captain's wheel to the jolly Harpsichord organ!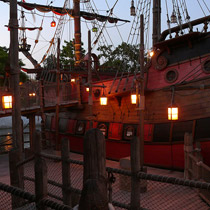 Le Pont Suspendu — Suspension bridge, spanning 30 metres between the peak of the southern island and the look-out point on Spyglass Hill opposite. This rickety bridge made of driftwood, rope and iron chains swings up, down and side-to-side as you navigate its unsteady steps. Jumping doesn't help, but is a lot of fun!
L'Ile au Trésor — Treasure Island, the northern island defined by the dramatic dark, rocky outcrops of Skull Rock and Spyglass Hill, where the black Jolly Roger flag flies to mark the spot where Jim Hawkins fought Long John Silver. Be sure to check through Jim's spyglass for oncoming marauders!
Ben Gunn's Cave — The dark depths of Treasure Island are home to a second, more deadly, network of caverns snaking past thundering waterfalls and long-forgotten skeletons. Take your pick from one of six entrances: Ambush Alley under Le Pont Suspendu, Davy Jones' Locker, which leads to a windswept, bottomless pit, Dead Man's Maze, Spyglass Pass, Hook's Hideout, hidden behind a waterfall, or Keelhaul Caverns, populated with the skeletons of treasure-hunters caught by Ben Gunn's revenge.
Skull Rock — Rising twelve metres from the perilous lagoon below, the fierce winds in these parts have carved a menacing face out of the thick black rock. Follow the steps from near Ben Gunn's Cave to stand inside the carved-out skull for yourself — then watch your back as its eyes follow you left and right; and at night, with a beady red glow!
Captain Hook's Pirate Ship — Peter Pan's nemesis has dropped anchor in Cannonball Cove, mooring his majestic galleon next to Skull Rock — the perfect hiding place for a cowardly captain. If you're lucky, Hook and Mr Smee will be gone for just long enough for you to hop on deck and have a look around!
The island is also home to two distinct attractions: La Cabane des Robinson and La Plage des Pirates.