For everyone who lives Star Wars, in a galaxy not so far, far away...
Forty years after Luke Skywalker and an unforgettable cast of heroes, heroines and highly-strung droids revolutionised cinema, Disneyland Paris launched a galactic new celebration - unique in the whole of Europe. And now it's back.
An exclusive nighttime spectacular leads the events, which unusually take over Walt Disney Studios Park rather than Disneyland Paris' original park.
Star Wars: A Galactic Celebration features an epic battle and memorable moments from the legendary movies brought to life with projections, special effects and even live characters at the heart of the park, turning the impressive Hollywood Tower Hotel into a projection surface for flying X-Wings, TIE fighters and more.
The chance to see such a large number of Star Wars characters coming to life is a unique Season of the Force selling point, many of them only rarely seen at Disneyland Paris and some never seen here before at all.
Each day, the new stage celebration Star Wars: A Galaxy Far, Far Away takes place on a new outdoor stage, bringing together an incredible roster of characters from both the "dark side" and the light. In between, the First Order March sees Captain Phasma rule over the park with a procession of Stormtroopers, who also make sporadic visits throughout the day. Selfie with a Stormtrooper anyone?
If you grew up wielding a lightsaber to the original trilogy, now it's time to pass on that unique feeling of the force to your next generation — or just relive it for yourself.
You won't find an experience like it this side of Tatooine — or North America. At long last, the force is awakening not so far, far away.
Use the force - visit the place where Star Wars lives
Plan your Disneyland Paris trip to live the brand new Season of the Force for yourself, a new Star Wars experience unique in the whole of Europe.
Get up to 2 Nights & 2 Days Free plus Kids Under 7 Stay & Play Free when you book early for 2018.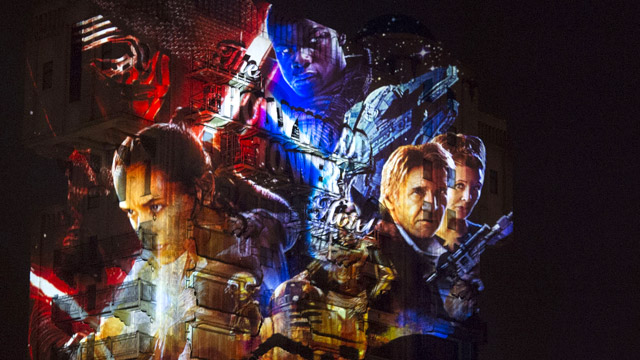 NEW! Nighttime spectacular at Walt Disney Studios Park
Star Wars: A Galactic Celebration
When darkness falls, the park lights up in a spectacular show of Star Wars colours, lights, sounds and special effects!
For the first time in its history, Walt Disney Studios Park presents a daily nighttime spectacular. Using the familiar projection-mapping techniques of the neighbouring Disney Dreams! and taking cues from a similar nighttime show in Florida, this Galactic Celebration has been specially created for Disneyland Paris.
No less than 16 high definition projectors use the huge 2,500m² surface of The Twilight Zone Tower of Terror as a canvas to bring key moments from the saga to life. As X-Wing and TIE starfighters swoop past, you'll be plunged into the middle of an epic Star Wars battle scene. Disneyland Paris has even confirmed AT-ACT and U-Wings from the latest movie Rogue One: A Star Wars Story will be featured.
More unusually for a nighttime projection show, the event features a number of live characters including Chewbacca, R2-D2, Kylo Ren and Darth Vader.
Happening only during Season of the Force, this unique, limited-time event is not to be missed!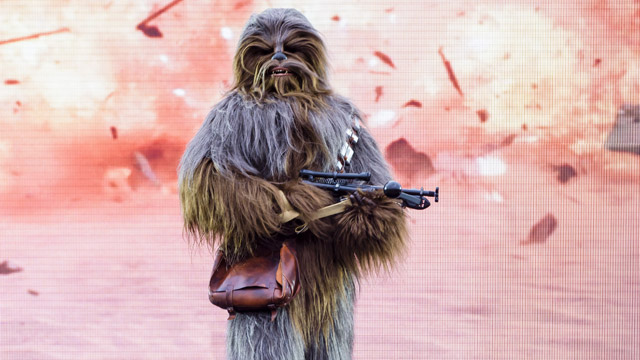 NEW! Celebrated Star Wars characters on stage
Star Wars: A Galaxy Far, Far Away
Relive some of the greatest moments from a long time ago in a galaxy far, far away for real.
On a new outdoor stage at the heart of Walt Disney Studios Park, a great cast of Star Wars characters come together like never before at Disneyland Paris.
Based on an event of the same name at Disney's Hollywood Studios in Florida, classic clips are interspersed with brief appearances from the likes of C-3PO, R2-D2, Darth Maul, Chewbacca, Captain Phasma, Kylo Ren and of course Darth Vader.
Don't expect any kind of storyline worthy of the space opera, but do soak in the chance to feel that this galaxy of stories is alive in front of you.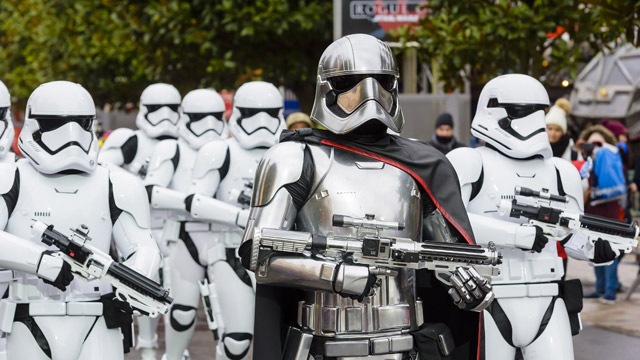 NEW! Daily procession at Walt Disney Studios Park
First Order March
A force of Stormtroopers are led into the park at the command of Captain Phasma.
Clad in a distinctive armour of salvaged chromium, Captain Phasma commands the First Order's legions of stormtroopers in their battle against the New Republic.
Certainly one the more unusual Disney processions, the battalion of Stormtroopers march into the park "on the authority of General Hux", eventually lining up around the stage to signal the start of Star Wars: A Galaxy Far, Far Away.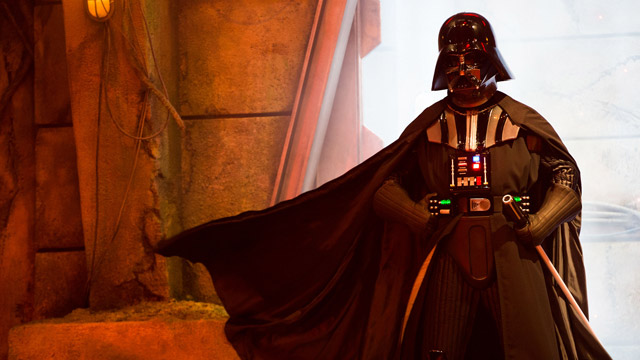 Young Padawans become Jedis to defeat Darth Vader
Jedi Training Academy
Take cover in a secret rebel base to learn the ways of the Jedi as young Padawans step up to "use the force".
This unique event allows children aged 7 to 12 to take control a lightsaber, with limited places available each morning for training. Then, in a 15 minute stage spectacle, they go head to head with Darth Vader and his Stormtroopers to complete their apprenticeship.
If you've young Star Wars fans of the correct age, this is a must-do and well worth the time out of your park visit. Yet, even if you're a rather older fan, it's still a worthwhile chance to briefly see R2-D2 and Darth Vader on stage.
Jedi Training Academy is scheduled to be running from 12th January to 4th May 2017 and from 1st July to 3rd September 2017.
Watch: Star Wars Playlist
Feel the force of Star Wars at Disneyland Paris with our YouTube playlist of Season of the Force teasers and trailers.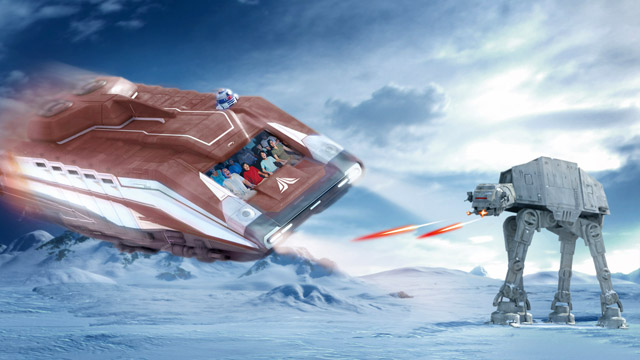 More Star Wars at Disneyland Paris
Trying to make sure we visit twice in 2017? It's a trap!
One downside of the inaugural Season of the Force is that two of the resort's upcoming new Star Wars attractions won't quite make the dates. Both of these will instead be key additions for the 25th Anniversary.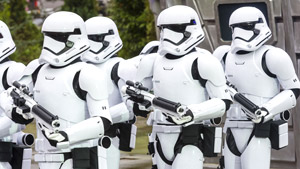 NEW! Character encounter
Stormtroopers Patrol
"These aren't the droids we're looking for."
Face up to the ground force of the Galactic Empire and First Order as they patrol the park checking guests' credentials throughout the day.
Just don't question their height — these Stormtroopers are the real deal!