Getting To The Magic: Eurostar
Speed your way there on the Disney Train!
Marne-la-Vallée/Chessy is the resort's own train station, conveniently located right at the heart of the magic between the two Disney Parks and Disney Village, just moments from Mickey Mouse himself.
Opened in 1994, the high speed line to Northern France links to the Channel Tunnel and then to the UK's new High Speed 1 line, giving an incredible journey time of just 2 hours 30 minutes from the heart of London's Kings Cross/St Pancras district to the heart of Disney's European magic kingdom.
The daily Disneyland Direct train also allows the magic to begin as soon as you step onboard, with special Disney touches throughout your journey.

Choose your Route
Direct Service
Time: 2 hrs 56 mins
1 Service daily

Change at Lille to TGV
Time: 3 hrs 18 mins (incl. 25 mins stopover in Lille)
6 Services daily

Disneyland via Paris

Change at Paris for alternative connections to Disneyland Resort Paris, such as RER.
This option is not recommended unless you are staying in or around the central Paris area.
Search & Book Tickets
Please Note:
Disney Express luggage service and hotel check-in is only available with Eurostar Direct to Disneyland. Booked direct with a Disneyland Resort Paris package, it is included without a supplement required!
You must check-in at least 30 minutes before your departure time and have all relevant travel documents (ticket, passport / ID card) with you. Children under 4 can travel free on their parent's lap.
Remember to book your tickets through these links to help keep DLP Guide online!
Eurostar.com and ticket sales are in no way connected with dlpguide.com

Disneyland Direct
Take the direct daily Disney train!
Direct Service
A unique Disney touch to the journey
Time: 2 hours 56 minutes
1 Service daily
Eurostar takes you from the heart of London direct to the heart of Disneyland Resort Paris!  In just 2 hours 30 minutes (or less than 2 hours from Ashford in Kent!), you'll wave goodbye to Big Ben and the London Eye, shoot through the Channel Tunnel and say "bonjour!" to Sleeping Beauty Castle and Space Mountain!  The Disney dream doesn't get any better than this.
At London St Pancras International, the departure lounge will be given a touch of Disney magic with a live band, character appearances and a preview video playing on most days.
Once on-board, a Disneyland Paris Cast Member will be on hand to answer any questions and give tips for your visit.
Timetable
Services vary, but generally the following daily departure timetable applies Monday-Saturday:
London -- Ashford -- Disneyland (Marne-la-Vallée/Chessy)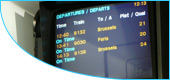 Disney Express
Check into your Disney Hotel on departure and head straight into the parks when you arrive, so you don't miss a second of the magic!
With Disney Express, you receive your park tickets and hotel details at London St. Pancras International departure lounge (or on-board the train for passengers joining at Ashford), and then, upon arrival, leave your bags at the Disney Express desk on the upper floor of Marne-la-Vallée/Chessy station.  Your luggage will be taken to your hotel and you're free to explore the parks right away!
On your final day, leave your luggage at your Disney Hotel's concierge and ask for it to be taken to the Gare TGV with Disney Express.  Then, when you're finished your final day of magic, it can be collected from the desk on the upper floor, opposite Eurostar check-in itself.  Always allow at least 1 hour to leave the park, collect your luggage and check-in for Eurostar.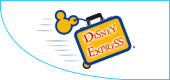 Eurostar Quick Guide
It's no wonder Eurostar has become a serious rival for the local international airlines, the entire operation is similar to that of an airport, with security, a departure lounge and boarding gates.  The crucial missing factor?  Delays and long waits.  The following guides you through the entire journey:
Upon arrival at St. Pancras, head to the Eurostar International Departures area.  Check the departures board for your train (they're all given a unique ID number), and, if it's marked as 'Open/Ouvert', then you can proceed to check-in.
Use your ticket to pass through the automatic barriers, then head through security - airport style, with an x-ray bag scanner and walk-through detector.  Random bag searches are operated almost continuously in recent years.  Next, make your way through both UK and French passport control.
You're now in the departure lounge, where comfy seats and a range of shops and services await, regulars such as WH Smith and Costa Coffee, along with many more exclusive new outlets and bars.  Check the information screens for train info frequently.
When your train is ready to board, several announcements will be made and the screens will update to show 'Now Boarding' and the relevant platform number.  At this point, check your ticket reservations for your coach/carriage/voiture number, since, to ease boarding of the quarter-mile-long trains, the platforms have several tiered entrances.
As you make your way up the moving walkways and escalators to the platform, your ticket will be given a final check and then you're free to board and find your seat.  Luggage storage areas can be found in the vestibule areas of every carriage.
Announcements will be made just before entering the Channel Tunnel (25 minutes journey time) and upon entry into France/England, confirming the local time difference.
When you arrive at Marne-la-Vallée/Chessy, there's no security or extra checks - you just step right off the train and into the heart of Disneyland Resort Paris!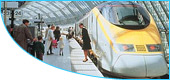 Disneyland via Lille
Much more flexibility and a little more of France
Eurostar to Lille Europe, change to Direct TGV
Time: 3 hours 18 minutes (incl. 25 minutes stopover in Lille)
6 Services daily
If you live outside the London area, the 9:30am departure of the Disneyland Direct service doesn't give much time for connections from further North or West.  Luckily, Eurostar and TGV offer a quick connecting service via Lille to the magic around 6 times a day, giving much more flexibility and freedom to your journey.  When you search for Disneyland tickets using Voyages SNCF, the booking system will automatically list these trains.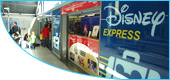 Journey Tips & Changing Trains
Departing London St. Pancras International, your train will likely be headed for Brussels, with a stop at Ashford International on the way.
Lille Europe
Upon arriving at Lille Europe, you'll have around 25 minutes free before the direct TGV to Marne-la-Vallée/Chessy pulls in, usually headed to a final destination somewhere on the South coast of France, such as Montpellier.
When you're ready to head to the platform (quai), stamp your ticket using the machine in front of the escalators to validate it.  Conductors don't operate often on the trains, but make sure you have your ticket ready just in case.  They all wear uniform and will probably ask "billets s'il vous plaît".
All TGV trains are given unique ID numbers on your ticket, on departure boards and on the LED displays on the trains themselves, so it's far easier than you'd imagine to change trains abroad!  Display screens also show the exact position of each carriage, so you'll be stood in exactly the right spot to board when the train arrives.  Towards Disneyland the services are frequently two joined trains, so if you're rushing to get onboard make sure you jump onto the correct train or you might not get to your seat!
Return Journey
On the return journey, you'll be given extra time at Lille to allow for Eurostar check-in and security, which takes place at the far North of Lille Europe station and is clearly signposted.  Whilst the station concourse features cafés and newsagents, the departure lounge is small and simple, with vending machines for refreshments.

London St Pancras Intl
NOW OPEN!!
Eurostar has moved! Since Wednesday 14th November 2007, all Eurostar services depart and arrive from the stunning, redesigned London St Pancras International, with trains running along the brand new HS1 - Britain's first dedicated high speed railway line. All journey times will be cut by around 25 minutes.
The station's location in the North of London immediately makes Eurostar much more accessible to millions across the UK, with direct links to the Midlands from its domestic platforms and to the East Coast Main Line at King's Cross across the street. The station mixes the gothic Victorian architecture of the St Pancras Chambers with a vibrant, bright new international rail hub, offering shops, restaurants, a marketplace and much more space for Eurostar's services.
The final services from London Waterloo International were on Tuesday 13th November 2007, with the entire operational team then moving to St Pancras overnight to begin services the next day without any interruption.
Disneyland Direct
The service has continued operating as normal, albeit at an earlier departure time and with a reduced journey time of just 2 hours 30 minutes!

Marne-la-Vallée/Chessy
Arriving in The Magic
Gare Marne-la-Vallée/Chessy TGV is the official name for the transport hub of Disneyland Resort Paris, providing TGV trains, RER trains, buses and car parking right next to the gates of the two Disney Parks.
Upon arrival, head out through the side of the station to the many shuttle buses, waiting to whisk you to your chosen hotel. Disney Hotel shuttles are yellow, whilst those of parter hotels in Val de France and Val d'Europe are pink.
If you need to get to somewhere out of the resort area via RER regional express train, head towards the South side of the station, facing Walt Disney Studios Park. Nearing the doors, turn right and the RER annex will be clearly visible.

Disney Express
The Disney Express desk is located on the upper floor of the station, near the Eurostar check-in, accessed via the steps near the departures board.
This is where you need to leave your bags when you first arrive if you want to head straight into the parks, or, on your final day, where you can pick them up after having left them at your Disney Hotel's concierge in the morning.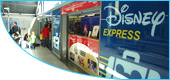 Leaving The Magic
Your Disney dream has come to an end, but luckily the return journey should be pleasant and relaxing.
For Eurostar services, you need to check-in at least 30 minutes in advance on the top floor of the station, accessed via the stairs next to the main departure board. Standard passport control and security checks will be in operation.
For TGV services to Lille or beyond, there's no check-in required. Just stamp your ticket before taking the escalator to your platform.
The station has a good range of shops and services on offer, such as a post office, newsagents, mini supermarket, coffee shop, bar and deli. Luggage storage (paying) can be found on the upper floor.