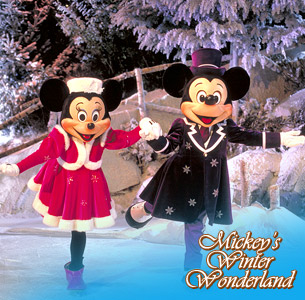 10th November 2007 to 2nd March 2008
Location
Entertainment Type
Characters, Musical, Skating
Performances
Between 3 and 5 daily
Category
Wait Time
Scheduled Times
Children 3-7
Children 8-12
Teens/Yng Adults
Adults
Seniors
Getting a Seat
Though its location may seem quite off the beaten track, Mickey's Winter Wonderland always attracts large audiences and is worth arriving up to 30 minutes in advance for.
The Chaparral Theater, converted to a covered venue in the mid-1990s, has two large roof support columns which obstruct views in the left and right seating areas. If all seats in the centre are taken, make sure your seat in one of these two areas has a good view of the centre stage area.
If you arrive just before the show begins, Cast Members often allow guests entry through the rear doors of the theatre to fill final seats, some of which may actually have great views.
During the Show
The venue is actually an outdoor stage, covered only with a large roof and on some sides, so do wrap up warm.
One great way to stay warm is to join in the songs, clapping, singing and tapping your feet. You won't be alone - the characters and music always get a great audience reaction!
Winter Wonderland at Night
The final shows of each day often add an extra touch of magic since the darkness outside makes the stage glow extra magically with its lights and snow!
Fun Facts
This is the only Disney theme park show in the world both to feature a real ice skating rink and to use live horses on-stage, pulling the sleigh for the finale!
Presented between November and late February, the show shares The Chaparral Theater with The Tarzan Encounter, the sets entirely changed from a lush jungle to a rustic Winter retreat during March and October.
The country bears featured in the show were inspired by those of the Country Bear Jamboree at Disneyland in California, Walt Disney World and Tokyo Disneyland. They can frequently be seen outside of the Winter season, meeting and greeting in Frontierland.
Music
Compiling music from several different sources, artists and even genres, the soundtrack Mickey's Winter Wonderland nevertheless has a consistency and popularity that can be attributed to its producers, Robbie Buchanan and Vasile Sirli (musical director at Disneyland Resort Paris) and the arrangements and orchestrations of Vasile Sirli and Dave Volpi.
One of the major musical themes of the show is Emile Waldteufel's 'Valse des Patineurs' (Waltz of the Skaters), used in three separate segments culminating in the romantic dance of Mickey and Minnie.
Classic winter songs used in the show are 'Let it Snow' (Jules Styne / Sammy Cahn), 'Baby it's Cold Outside' (Franck Loesser) and 'Winter Wonderlan'd (Dick Smith / Felix Bernard). The most memorable, however, might be the two Winter Hoedown pieces by Vasile Sirli, mixing in country classics 'Rocky Top' and 'Oh! Susanna' with the 'Country Christmas' piece by Steve Skorija and Gary Paben, bridging together perfectly the Frontier setting and Winter theme.
Finally, the show's grand finale uses 'Sleigh Ride' (Leroy Anderson / Mitchell Parish) and a reprise of 'Winter Wonderland' (Dick Smith / Felix Bernard) with Vasile Sirli's original 'Sweet Horn' to open.
The soundtrack of the show, including both songs and score, can be found on the Frontierland En Musique CD.
More Pictures
Let it snow, let it snow, let it snow!
An old-fashioned Winter gathering of friends takes over Donald's mountain chalet for one magical weekend of fun, laughter... and romance!
Now in its ninth season, Mickey's Winter Wonderland continues to delight audiences with Winter music, ice skating and character fun. The show becomes an instant sensation with everyone who sees it, arriving with few expectations and leaving overwhelmed by the highly perfected and surprisingly grand spectacle.
The stage of The Chaparral Theater has been transformed into a true Winter wonderland, with the rocky snow-covered mountainside featuring a cosy wooden chalet, a frozen pond, a mysterious ice cave and even a hillside slide!
The Show
The rustic mountain chalet belongs to Donald Duck, the unforgettably loose-tempered Disney character, who has travelled up into his Winter retreat to relax and unwind with a spot of gentle fishing on the icy lake! Unfortunately, Donald's plan of a peaceful mountain holiday doesn't quite go to plan...
A Winter Wonderland!
A hefty pile of snow falls from the lodge's roof and knocks Donald right on the head! Never mind... he's trying to stay calm. As he takes a seat next to his fishing hole, humming a catchy Christmas beat, two mountain explorers enter from the other side of the Winter scene. Tired and cold from their mountain adventure, the two explorers rejoice when they see Donald sitting outside his cosy chalet retreat. "Donald! Donald! Can we stay?" they shout across, to which Donald agrees and the explorers celebrate with a few festive choruses of "Let It Snow".
Soon enough, Donald's peace is stolen once again, when the happy musical number draws all his Disney friends, who show up in their new Winter outfits to enjoy the fresh mountain air! Chip, Dale and Pluto slide down the mountain whilst Goofy tumbles down as giant snowball! Accepting that his dream of a relaxing break isn't going to happen, Donald agrees to let them all stay, and the fun begins!
Baby, It's Cold Outside
Having unpacked their bags, the hikers head outside to explore their new surroundings with the Disney characters and a cheeky musical number of "Baby It's Cold Outside".  After getting to know each other and enjoying the warm and friendly atmosphere, they have a great idea - ice hockey!
One by one, they take to the frozen pond next to Donald's chalet and enjoy a special game to the classic tune of "Winter Wonderland". Whilst they play, Donald continues to search for that elusive catch of the day. Wait - he's caught something! But it's perhaps not what he hoped for... Ahhh shucks!
Country Bear Winter Hoedown!
It seems the fun and laughter of the group hasn't only been disturbing Donald, as curious animal sounds begin to echo out of the frosty cave at the side of the stage.  Should they go and find out what it is? Eventually, one of the characters summons up the courage to check it out, before running out in fear and describing the horrible creature they saw!
No need to worry, though - the "monster" is just a group of three goofy, loveable Country Bears, who take to the frozen pond to show off their delicate figure skating talents.  Realising that their country cousins mean no harm, the explorers and their Disney friends emerge from the chalet and greet their furry neighbours.
Once everyone's introduced, they find a selection of traditional, Country and Western musical instruments and begin to whip up a blizzard of lively music and dance. 
Everyone gets involved in the "Winter Hoedown" - even Donald, who dons the same special Winter Western costume as his two new adventurer friends.  They all dance a traditional Country jig and shout out the lyrics of classics like "Oh! Susanna" and "Rocky Top", before finishing with a loud and lively finale.
Romance On Ice
The lights fade down and a warm, romantic, purple and blue glow fills the icy stage as Mickey and Minnie skate out onto the lake with dazzling, shimmering, red and purple costumes and an impressive touch of ice skating talent!  To the symphonic score of "La Valse des Patineurs" (Waltz of the Skaters), Mickey and Minnie glide around the pond, weaving in and out of each other and performing a number of magical ice moves and routines.
"Sleighbells and snow, fresh winds that blow", Mickey sings to Minnie as they skate, "Old-fashioned Winter, how sweet your glow".  The heavenly romance ends with the two coming together in a heart-warming hug, as Mickey gives Minnie a cheeky peck on the cheek!
Sleighbells Ring...
The show comes to an end as Mickey and Minnie conclude their charming ice dance and a traditional red and green sleigh is pulled on stage by two beautiful horses!  The sleigh stops for just enough time to finish the show with one final musical number with all the classics together one last time.
Then, the entire gathering of new friends, old friends and furry friends climb aboard the sleigh and gently glide off to continue their Winter adventure together, in the snowy wilderness beyond...