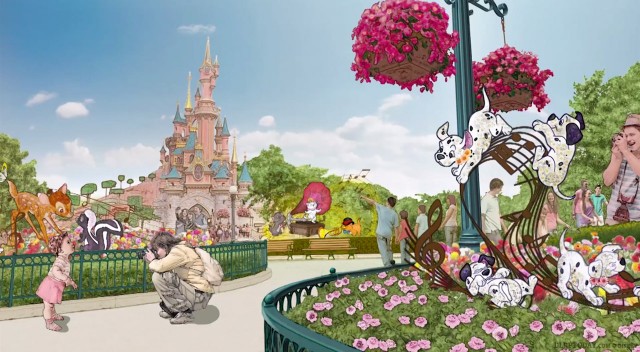 You've less than four days to get to Disneyland Paris for the opening of 'Swing into Spring', the almost mythical Spring Festival which now at last has been given its official English title, dates and some welcome publicity by the resort.
Released today is a new video featuring Show Director Christophe Leclercq, introducing the season of springtime decorations and entertainment. If not revealing any new details of the much-speculated festival, Christophe confirms again some important details, such as the main event featuring no less than 90 dancers, 22 musicians and a quite startling 33 characters, taking place "in front of Sleeping Beauty Castle".
The video includes an additional piece of concept art for the Central Plaza "topiary" displays (above) which feature characters from Bambi, One Hundred and One Dalmatians, The Aristocats and The Lion King interacting with musical notes and instruments.
This is also the first time (besides a lone Belgian press release) that Disneyland Paris has confirmed the season will run from 5th April to 22nd June 2014.
In French, the season will be known as La Balade Printanière, or "Springtime Stroll".
An earlier version of the video mistakenly subtitled Town Square as Times Square.