C'est fantastique!
Donald Duck unlocks the animation vault and a musical timeline of Disney classics bursts to life in a unique "blacklight" stage show!
Housed in the 1,100-seat theatre within Studio 3, Animagique is a permanent live stage show performing up to five times daily all year round.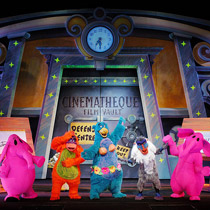 Utilising a novel staging technique of UV lights and flourescent paints, it sees a live Donald Duck travel through several recreated scenes from Disney classics, populated by props and puppets moved around by performers in black costume, making them appear to magically "float" around the stage.
After stealing Mickey's key to the animation vault in a fit of rage over his poor drawing skills, Donald stumbles into a cavern of film reels and, soon enough, into a pair of Pink Elephants from Dumbo. Their maddening dance ceases as Donald rips open The Jungle Book film canister, letting Baloo, King Louie and some perfectly choreographed palm trees loose to the music of the film.
This is also a good place to see two modern favourites brought to life: First, the wonderful "Under the Sea" number of The Little Mermaid, with Flounder and the other fish truly appearing to float in mid-air. Two numbers are included from The Lion King, with Rafiki's "Circle of Life" christening eventually drawing Donald back to the animation studio, brimming with creative energy! As the curtain falls on the inescapably catchy "Animagique" theme song itself, you'll likely be left feeling the same from one of the resort's longest running, most popular and certainly most unusual stage shows.
Animagique closed on 31st January 2016 after 28,700 shows entertaining over 17 million guests. It will be replaced by a major new musical show production, Mickey and the Magician, opening 2nd July 2016.