Two childhood dreams, one magical night.
On 1st, 10th, 17th and 24th June 2011, Disneyland Park re-opens after its regular daytime hours for an exclusive after-hours party in Adventureland and Fantasyland, allowing guests young and old the chance to discover the worlds of fearsome Pirates and regal Princesses!
It's an enchanting offer: Fantasyland and Adventureland privatised for the whole evening, a huge cast of characters for exclusive meets and a whole host of special entertainments and events to bring the lands to life with an intimate twilight atmosphere of music and fun.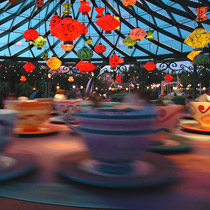 Since premiering the original Disney's Halloween Party soirée in 1997, Disneyland Paris has continued to build on the event each year with bigger and better spooky entertainments. In 2008, Mickey's Not-So-Scary Halloween Party added four nights of more family-friendly fun especially geared towards younger children.
And now, the nighttime parties are launching in a brand new month, with a brand new host of entertainments, to allow even more people to enjoy the fun of a private party in Disneyland.
In Fantasyland, you'll encounter all the best-known Disney Princes and Princesses, such as Belle, Cinderella and even Tiana and Rapunzel, before having to chance to become one of them at a unique academy. Meanwhile, a thrilling night in Adventureland, lit by flickering torches, will see you encounter Jack Sparrow and the characters of Peter Pan!